Nowadays, Instagram has become one of the most used social media applications and has noticeable dominance over the new generation. People use this application to convey their day-to-day life and events that took place in life. Moreover, Instagram is famous for sharing pictures and posting many things on the news feed. But users often question how to post a video on Instagram or how to upload a video to Instagram. This platform has a limitation when uploading videos to Instagram from the desktop.
To post a video on the Instagram app:
Open Instagram
Go to the

upload screen

 

& click the

"+" icon

in the

top right corner

and

press "

Post

."

Locate

your video

.

Improve your video using

filters.

Write a great caption.
That's it,

Upload!
Can I Upload A Video To Instagram Through A Computer?
You cannot immediately post fresh content (especially video) to your account using the website on your desktop browser because Instagram is an Android application. But that does not validate that it won't be complete.
Some third-party programs and services let you use your computer to post videos to Instagram.
See Also: How To Change Unsupported Video Codec In Android
How Can A YouTube Video Be Posted On Instagram?
One of those fantastic hacks is the ability to upload a YouTube video to your Instagram account. The simplest way is to download the video to your phone, publish it there, and then upload it to Instagram.
However, since you can't do it straight from the YouTube app, you must install a third-party program that allows downloading YouTube videos.
How To Upload A 2-Second Instagram Video:
This part will cover how to post a 2-second video to Instagram. Instagram mandates that videos be at least 3 seconds long before being uploaded. You should avoid this if your video becomes too short by doing the following:
The following action is to loop the chosen video.

To continue, you must 

extend the duration of the selected video

. You can include something for this reason at the opening or end of the video.
      4. You must slow down the video you've chosen. You'll benefit from dragging it out.
How To Upload A Three-Minute Instagram Video:
Recently, Instagram added the ability for users to submit and share brief videos, namely those that are "3 minutes or longer". A video that you upload to Instagram will also show up on IGTV. You may upload a three-minute video to Instagram using the instructions provided in this guide. You must follow the steps below if you wish to learn how to upload 3-minute movies to Instagram:
To begin, launch the Instagram app on your smartphone.

The second step after this is to use the

magnifying lens

. It is situated at the bottommost of your Instagram screen; tap it to continue.
At this moment, you must tap the IGTV icon. On the top-left of your Instagram screen, you can easily find it.
The next step in posting three-minute films to Instagram is to touch the plus symbol. It is present in the upper right corner of your window screen.
Next, pick the precise video you'll post on Instagram.
Next, either upload a fresh cover photo from your Photo gallery or pick one from the movie. Click Next to continue.
Check out: Why Did Snapchat Log Me Out? Top Ways To Fix The Issue Easily
6 Ways On How To Upload Video To Instagram Post
Here are some of the ways you can use to upload videos to Instagram from your PC:
Video Specifications
Before uploading any videos, there are a few things to remember. :
      The limit of the size of the file is 100 MB
      The playback length of any video is 60 seconds

      The video frame rate must be 30 FPS or lower

      The dimension of video at max must be 1080 or lower

      The format preferred for the video is MP4 (specifically H.264 Codec & AAC audio, 3,500 kbps video bitrate)
      Square aspect ratio(SAR) should be 1:1

      The vertical aspect ratio (VAR) should be 4:5.
See Also: How To Download All Photos From Facebook? [2023]
Cloud Storage
The primary way to do that is by creating an account on Dropbox or using Google Drive by logging in to your Gmail account. If you have yet to access any of these, you can create an account on Google and headway further. After that, copy and paste your desired video into the Drive or Dropbox folder.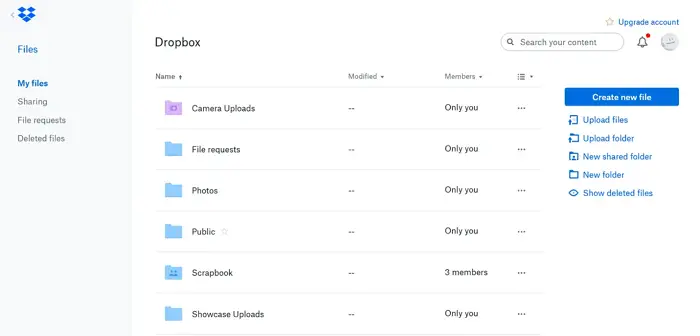 In the next step, re-open the Dropbox app and select the video to be uploaded. Over there, you will see an option named "Share." Click the share button, and the options like Instagram, Twitter, WhatsApp, and Facebook will appear depending on presently available applications on your phone or PC. Finally, select the option Instagram, and the video will get uploaded. To know how to see deleted Reddit comments, click here.
Visit: Dropbox
See Also: Top 6 Best Streaming Video Recorder Software to Download
See Also: Why Am I Getting Less Likes On Instagram? 8 Main Reasons
Gramblr
Gramblr is a desktop application installed on Windows or Mac operating systems. 
First and foremost, download the Gramblr application on your desktop. Install and launch the application and sign in to the application by creating an account. For the login purpose, the user has to enter an ID and password for their Instagram account. There will be no validation step redirecting the user to the application interface, which has a drag-and-drop function. To know how to read deleted Reddit posts, click here.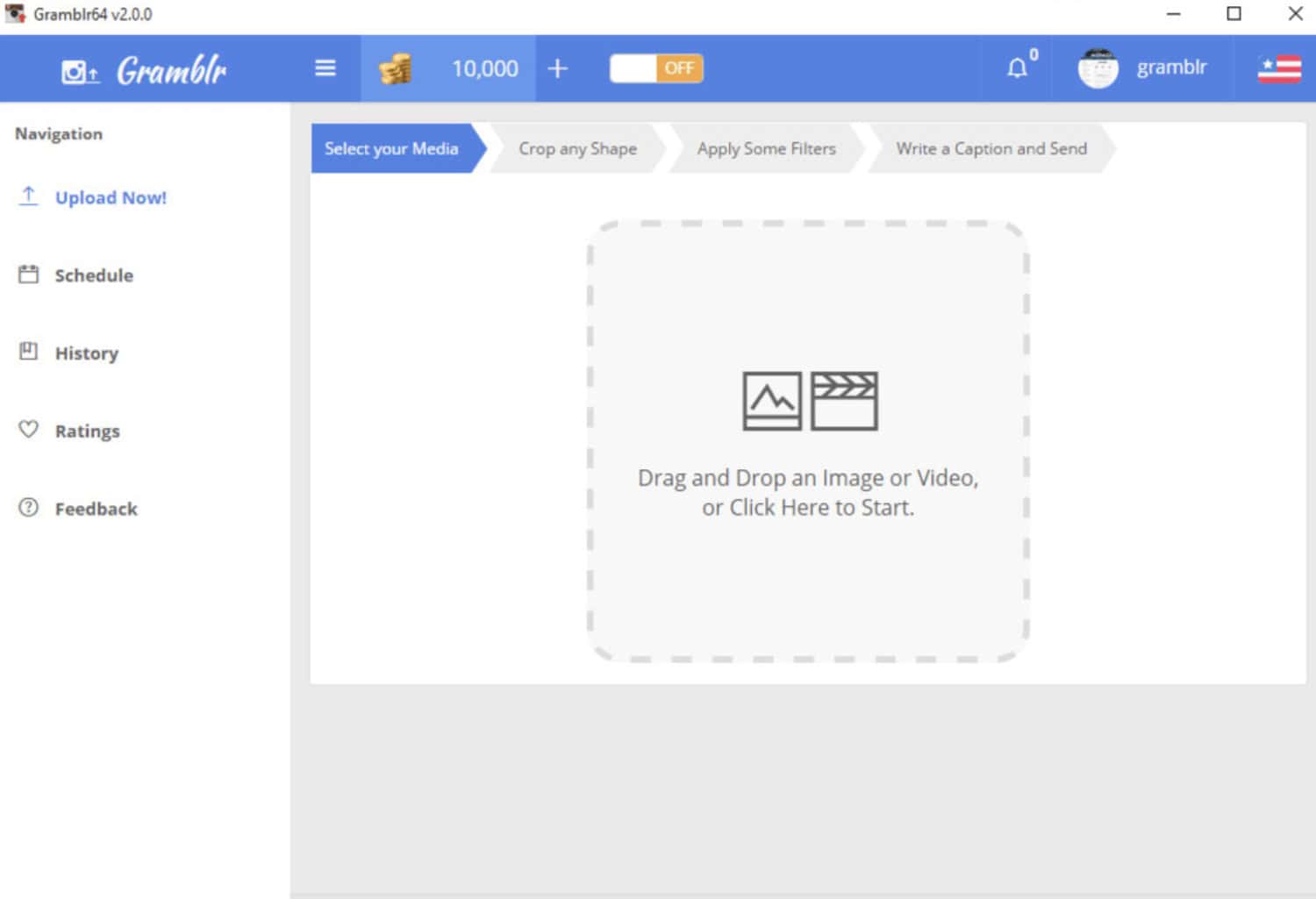 When you upload the video to Gramblr, an option called trim video will appear. There would be a horizontal line that you can use to trim the video as per your wish. After cutting the video, click the red thumbs-up button, and then you will be redirected to the final step. In the last step, you can write any caption and post the video on the Instagram application if you wonder how to post videos on Instagram. Also, you can schedule it to upload the video live by setting the desired date and time. Although, the latter feature is available for subscribed users.
 After trimming and editing, push the green button to send the video to your Instagram account. Just like any other application, Gramblr has a few cons. It can be a little buggy. However, it does what it claims. It might not work on the first attempt, but keep trying, and you will successfully upload the video to Instagram.
Visit: Gramblr
Flume
Flume application is one of the finest applications for Mac owners. It allows the user to get the same feel as having an Instagram application on their desktop.
The Flume application has to be downloaded from the website directly. However, Flume may not appear on the launch pad like any regular application. The user can copy and paste the installed application icon to the application folder or use it directly from the desktop icon. It has the exact user interface as the mobile phone, which is operable.
To upload a video from the PC, click the camera icon in the bottom left corner. An upload window will appear from where you can upload photos and videos. You can click on the camera icon in the corner to upload videos from the system drive. Also, you can drag and drop the video to upload.
After the video file is attached, options similar to the mobile application will appear. You can edit, trim, and filter the video also, which will select the thumbnail for the video. Moreover, users can write any narrative to the video, tag people, and add hashtags.
After completing all the steps above, you can easily upload the video to the Instagram feed. However, to upload the video, you must splurge a little. But it comes with affordable subscription options. Click here on how to delete all the photos on Instagram at once.
Visit: Flume
See Also: 8 Best Fake Tweet Generator Sites Of The Year
Uplet
As the name suggests, Uplet does precisely what it says and nothing more. The application can be installed directly from the website like any other application. The application is accessible from the Launchpad.
After installation, the highly minimal application interface will appear. The application has no option of resizing the application window, and it remains as default.
Click on the add symbol on the screen to select the files. Users can drag and drop files onto the application window. You will upload multiple options after dropping the video on the application window. However, you are not allowed to edit or trim the video. All you can do is add hashtags or descriptions. Finally, press the share button, and the file will upload. The process of uploading is abrupt and works exactly like any typical application. But, users can only upload five files in the free version, and other uploads require payment to upload a video to Instagram. How to download Highlights from Instagram? Read this article to learn.
Visit: Uplet
Later
If scheduling post-timing is vital for the user to go live at the desired time, then Later is worth a shot. It has a calendar scheduling feature, uploading multiple files, and provides labeling options to organize feeds.
And the best part is it's free of cost for Instagram, Twitter, Facebook, and Pinterest. You can use this application for up to 30 photos and videos a month on Instagram free of cost. A subscription gives you 100 free posts for pictures and videos at just $9 monthly.
Visit: Later
See Also: Top 6 Apps Like Snapchat
Sked Social
The application Sked Social emphasizes its scheduling feature. Also, it has a diversity of multiple Instagram features appealing to users who need to manage lots of content and a bunch of followers. However, it is not free of cost except for a 7-day free trial. After this period, the charged subscription is $20 a month or $200 a year, depending on the user's preferred option.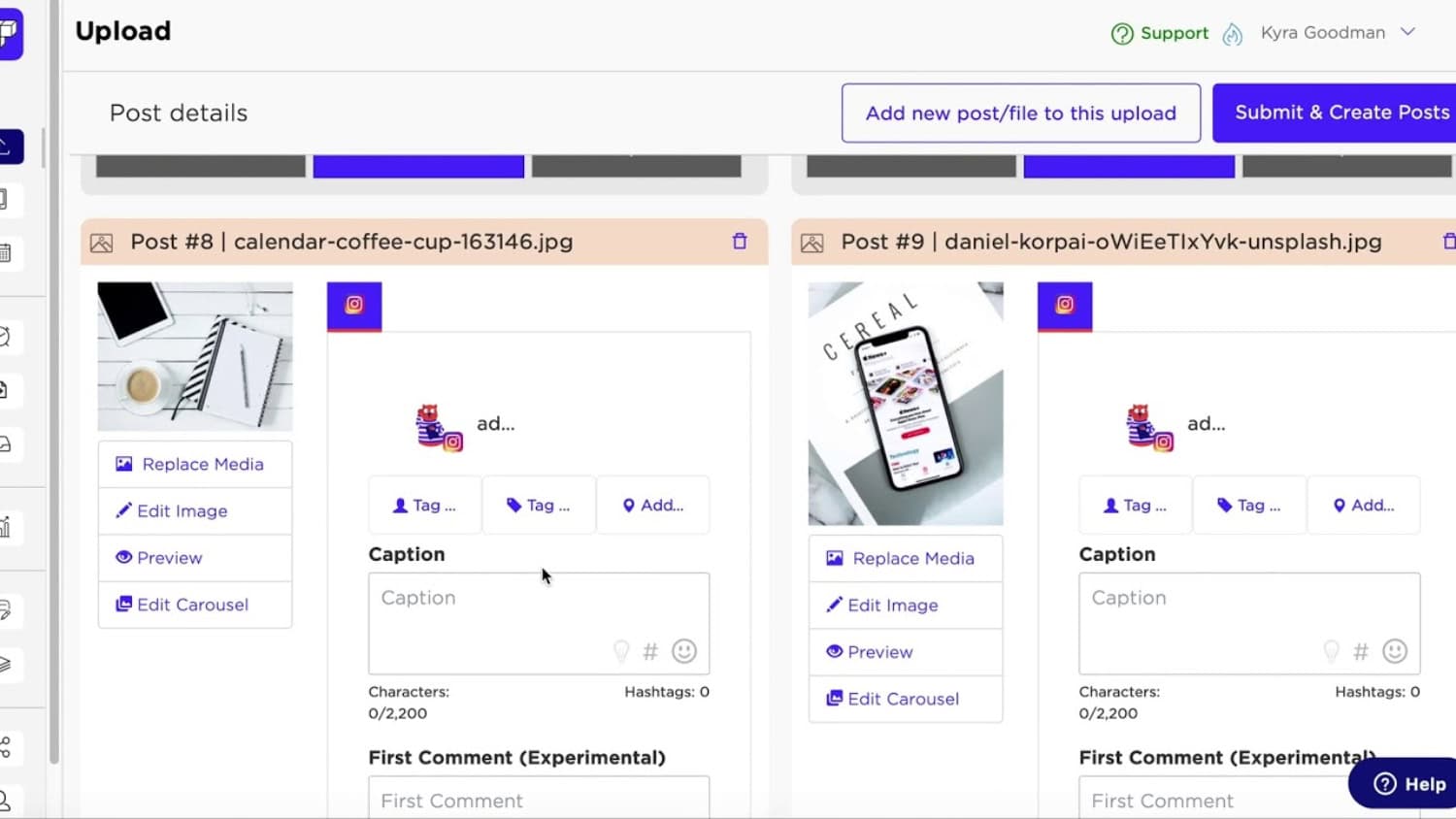 This tool lets users upload photos and videos and schedule posts without using any mobile device (Sked Social mobile applications are available for iOS and Android devices). Moreover, this app features cropping, filters, trimming videos, image rotation, and adding text descriptions to your posts before you schedule the uploaded videos on Instagram. Also, click here If Instagram Direct Message Video is not playing.
Visit: Sked Social
FAQs
Why am I not able to upload a video to Instagram?
Instagram typically won't allow you to post if you're breaking the rules; you have stolen else's content or copyrighted, you're spamming, the video or image format is not supporting, or you're spamming. If not, your slow internet connection is the reason you can't publish.
Which best way to publish videos on Instagram without sacrificing quality in 2023?
Utilize the iPhone and Android apps to upload HD videos. Navigate to the account settings, select an account, data use, and turn on the High-quality uploads option. The extra time spent uploading your videos will be worthwhile.
On my Instagram story, how can I upload a video?
In the Feed, tap below the image or video. Click Add post/video/reel to your story. Tap the bottom right corner. Click Share.
What types of videos can I post on Instagram?
You can upload a clip with a screen resolution between 1.91:1 and 9:16. Videos with 10 minutes running time or fewer can have a maximum file size of 650MB.
Also Read: Snapchat Failed To Send To One Person [How To Fix It?]
Dedicated group of Computer Engineers making tech updates accessible to all. Our dream is to simplify and share tech news with everyone.