Fake tweet generator sites create funny tweets, play pranks with friends, and create tweet memes. The process is straightforward- fill in the details phony user name, type a tweet, and set a date. And profile pictures too. Amazing right? One funny text or a funny face can bring a smile to your friends' ignorant faces (ignorant in my case).
Some of the best Fake Tweet Generator Sites are Simitator.com, Prankmenot.com, Zeoob.com, Tweetfake.com, Tweetgen.com, etc.
So without wasting time, let's discuss this year's eight best fake tweet generator sites. If you want to try out baby face generator tools, click here. There are ways to generate memes using Dame Da Ne Generator. Check our article on our site.
See Also: How To Tweet Nothing: The Art Of The Empty Tweet
Top 8 Fake Tweet Generator Sites to Consider Today!
Read this article and learn about fake tweet generator sites to prank your friends, create fake messages, and imitate celebrities.
Simitator.com
It is a fake tweet generator website to create fake tweets, messages, and Facebook posts. As I mentioned above, the process is straightforward, enter the details of the tweet message, and it will automatically create a fake tweet. The good thing is you can preview it simultaneously to check out your mistakes and rectify them before downloading it. You can download it later in JPG format.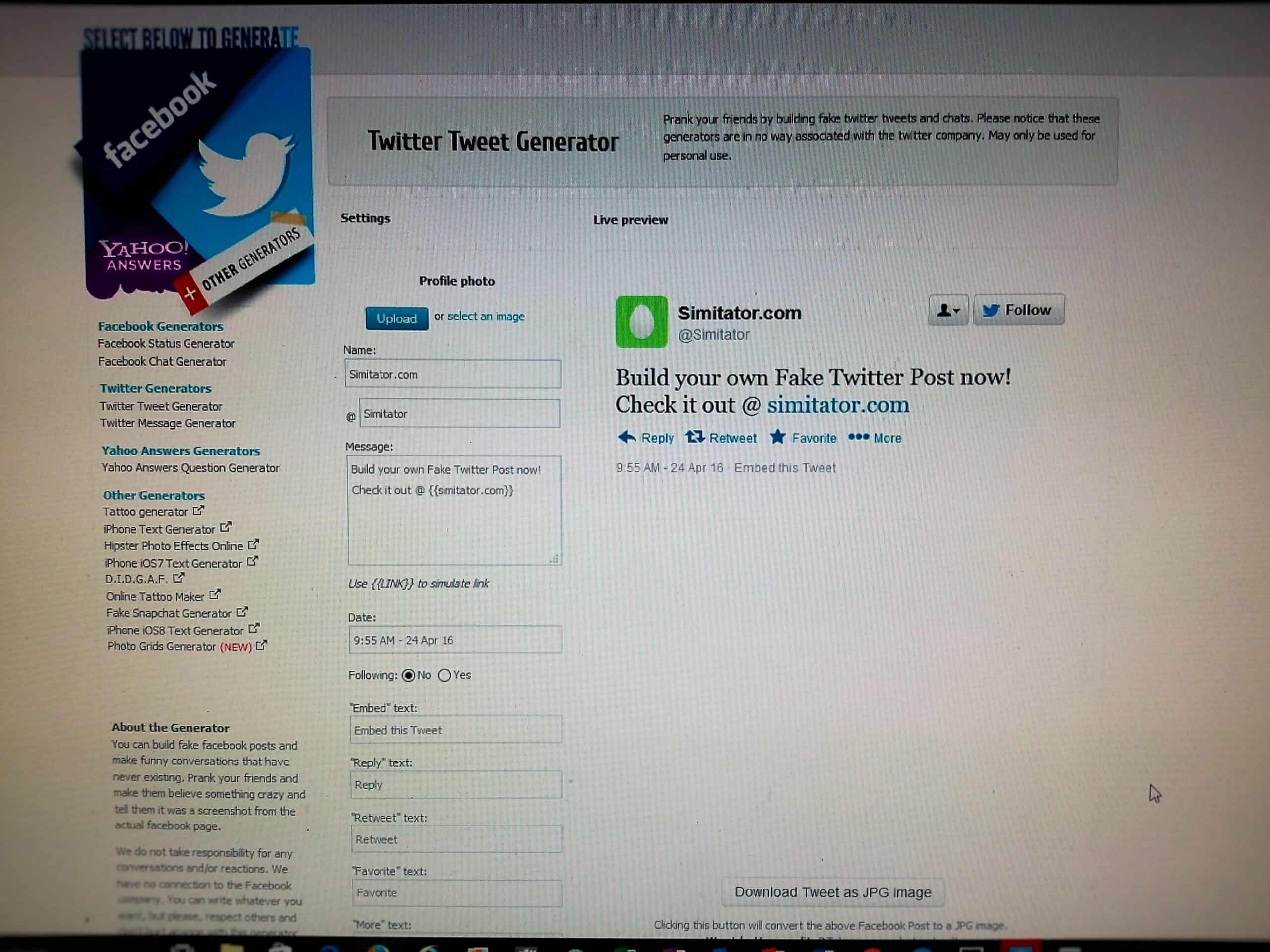 The above-provided link can open the fake tweet generator website's interface. All you have to do is go to the extreme left and fill in the details, as in the tweet message and the user's name. And its Twitter id and the date of the tweet. Then, click on "Download Tweet as JPG image." When this is done, some of you may have to save the image again from the browser menu. The term "fake news" describes an intentionally misleading or false news article. Learn about these websites created to generate fake news articles using AI.
Visit: Simitator.com
Prankmenot.com
Prank me not is another fake tweet generator site that offers you to create fake tweets. Apart from generating false tweets, fake tweet messages, fake Facebook chats, or fake Facebook statuses, prank me not to provide you to do in different languages like English, Arabic, Polski, Greek, Portuguese, Russian, Deutsch, and others.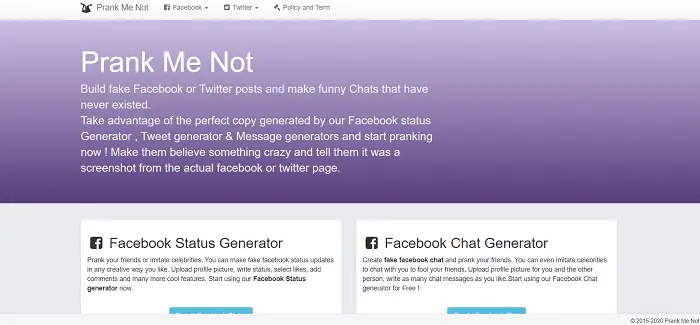 If English is not the language you were looking for, use this instead. It works like any other fake tweet generator, i.e., filling up the details of counterfeit tweets while seeing the preview at the same time. Later, you can download it by clicking on "Download Tweet as image."
Visit: Prankmenot.com
See Also: Top 7 Free Facebook Proxy Sites to Use in 2023
Zeoob.com
Zeoob is an online fake tweet generator for Twitter, Facebook, Instagram, and Snapchat. A funny prank post, chat, or status can be built using the tool provided by this website. Moreover, it allows you to use older versions of fake Twitter posts too.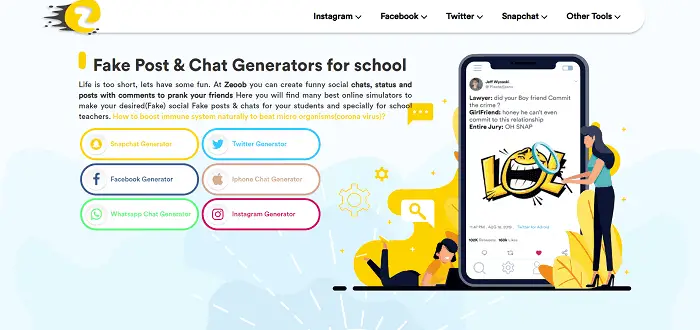 Again, it's a straightforward procedure of filling in the data by clicking on the edit option in the preview post itself. Then the fake post can be directly downloaded by clicking on the "Save Your Tweet" button below or taking a screenshot. It's way more accessible than the other fake tweet generator sites.
Visit: Zeoob.com
See Also: 3 Best Free & Paid Fake Email Sender Services | Latest
Wofox.com
This fake tweet generator site allows you to generate fake tweet posts by the tool on the website.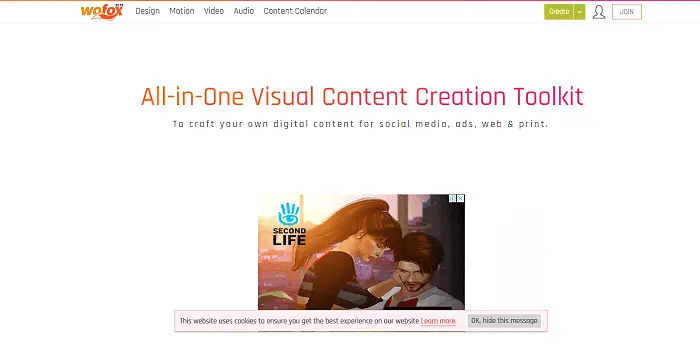 The process goes like this, fill in the details like username, user id, message, time of the job, profile picture, post image, views count, retweets count, reply count, and hearts count. And even direct message count. And taking a screenshot of the fake post created. However, you must sign up with your social account to download it.
Visit: Wofox.com
See Also: 5 Best iPhone Text Generator Tools in 2023
Dizwa.com
Dizwa is a fake tweet generator website that lets you create fake tweet posts and chats. Here too, the process is very similar to all the other sites, specifying the details of the post, including the post image, profile picture, content, and retweets.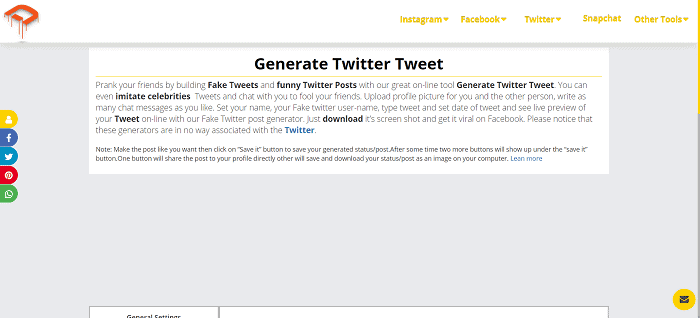 And, likes count and save it when done by clicking the "Save it" option below. That's simple!
Tweeterino.com
It is the next online fake tweet generator on the list. The online tool on the website allows you to build false tweets for its user. It works like others; however, it doesn't let you edit essential details like date, number of retweets and likes, etc. 
All you have to do is enter the message and complete it by choosing "Tweet," then it automatically generates the fake tweet with the current date and random counts of likes and retweets, and you can save it.
See Also: Top 6 Best APA Generator Tools to Download | 2023 Latest
Tweetfake.com
It is yet another free fake tweet generator website to build free fake tweet posts. You can customize the phony tweet template, choose a Twitter user to create a phony profile of, and take a screenshot to save it. This is one of the decent fake tweet generator sites one can recommend.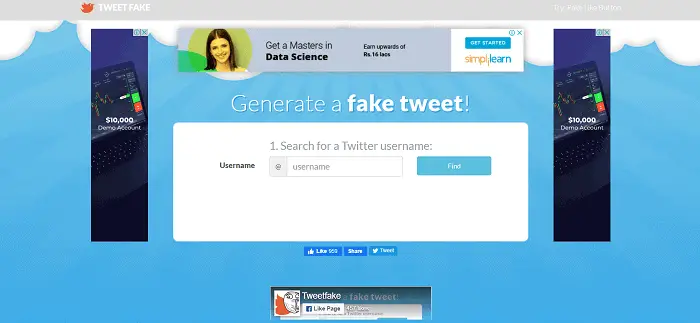 After clicking on the link, you can enter the details of the fake tweet with the template of your choice and finish it by clicking on "Generate Fake Tweet." 
Tweetgen.com
This fake tweet generator website allows you to choose the theme of the fake tweet you want to create. Then you can select the profile picture, name, username (verified or not), content, post image, date and time, retweets, and likes count.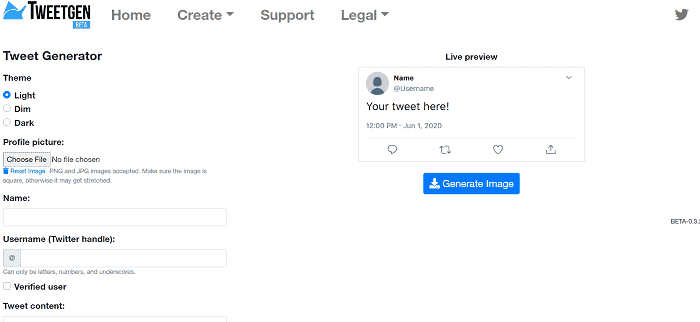 See the live preview to correct errors and save it by clicking the "Generate Image" button. 
Visit: Tweetgen.com
FAQS
Are fake Twitter accounts illegal?
Twitter permits users to create pseudonymous accounts. There is no compulsion to add a user's name or image to the account. Along with this, accounts may match the details of others, as this is not a violation of Twitter's privacy policy. Twitter blocks the account when it is misleading or manipulating someone's identity.
How can I make a fake Twitter account?
To make a fake Twitter account, use another Gmail Or Phone number while registering. Counterfeit emails or phone numbers from third-party apps can create fake accounts.
Does Twitter allow alt accounts?
Twitter allows you to use multiple accounts in the same window. For this, you must add more than one Twitter account by clicking on 'Add an existing account' on the Twitter navigation menu icon. You can use them on platforms like iOS, Windows, Android, desktop, browser, or Twitter lite.
How much do fake Twitter followers cost?
Bulkoid is the most recommended site for buying Twitter followers at a pocket-friendly rate. The minimum cost for buying followers starts from $5 for 100 followers to 3000 followers for $150.
Conclusion
These are our best fake tweet generator sites for you. So go ahead! Create some entertaining content for your audience or play a prank on your friends using these websites. Do read this article if you are looking for voice chat apps with advanced features to improve your gaming experience and extend your friend list without any bindings! 
Pinning Tweets can help you find your favorite tweets in an instant. Find out how to pin any tweet for better findability.
Dedicated group of Computer Engineers making tech updates accessible to all. Our dream is to simplify and share tech news with everyone.