Hey! Do you enjoy games like PUBG, GTA, and Asphalt 9, or are you a game lover? Watching gameplay on platforms like YouTube has become popular, and it can lead to fame and earning a living through streaming live. Gaming events with prizes and donations further contribute to the growth of the industry. Comedians like Carryminati, Gareeb, and Tanmay Bhatt have also streamed their gameplay to earn additional income and used voice changers for entertainment purposes.
Here is the list of Top 5 Best Voice Changer For Discord Tools in 2023:
Discord Voice Changer

 

MorphVOX

MasqVOX Voice Changer

Audio For Fun

Clownfish
First, you need to know about Discord, too, if you are playing a game and want to change while playing the game. So basically, Discord is an app that allows you to talk with your friends or other players while playing any game, which does not support the voice chat option to reach out to your friends.
5 Voice Changer For Discord Tools
Here is the list of some of the best voice changers for Discord
Discord Voice Changer

 
As "Easy ways on the top" with a definition or idea from its name, it is the best app that helps you to change your voice with an inbuilt system of connecting with Discord without any difficulty and have smooth voice editing while playing a game or talking to your friend in-game. It comes up with low bandwidth and CPU usage.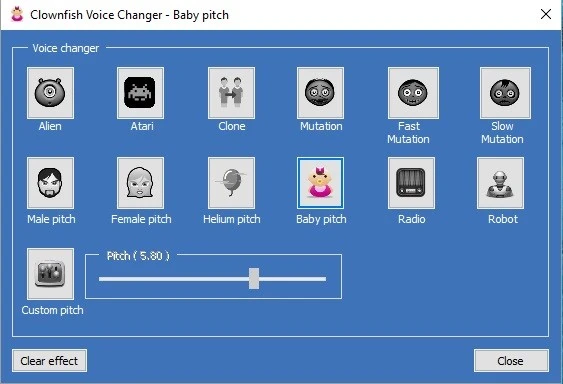 It jumps out with a rating of 4.0/5 on some websites.
Hence, you will not find this app on Play Store or any particular website, but you can have it from a third-party person who uses it for his purpose. 
MorphVOX
Some "Royal stuff" there, yes; not only does it gives a premium feel, but it also works as a premium app. It gives you tools related to the pitch of voice, depth of the voice, and many more options which can change your voice in so many ways like robotics, slow motion, alien, child and soft-touch, etc. Another advantage is that it takes low bandwidth and CPU usage, which is the secret of running smoothly on PCs. 

It also has a rating of 4.0/5 on some websites. Without having any troubles with Discord, this voice modulator for Discord works smoothly on Windows 7,8,10. If you are experiencing the Discord Stream Freezing issue, click here for this article.
Visit: MorphVOX
MasqVOX Voice Changer
This is the "real deal." The reason behind saying it "real-deal" is that it gives you a lot of variation, which you find common on a YouTube channel. Some of the variations they used are cartoon voices, famous movie actors' voices, anime voices, and many more. You can add funny types of voices with just a click without facing any trouble. The other best thing about it is that it does not require much space on your laptop or pc.
This list has a rating of 4.1/5 from some of the most recognizable sites, and this discord voice changer works smoothly with all Windows versions.
See also: How To Use Twitch Emotes On Discord? [Complete Guide]
Audio For Fun
The many reasons this voice changer for Discord is on this list is because people find it easier to use it than other apps, with smoothly running variations and some simple but great options for voice editing.
It comes in two kinds. One is simple, and the other one is premium which gives you the premium functions other than the simple one and costs you a little bit. Different may be based on new tones, sounds, pitch variations, and other options too. Maybe it gives a medium bandwidth and CPU usage, but still, it works quite well.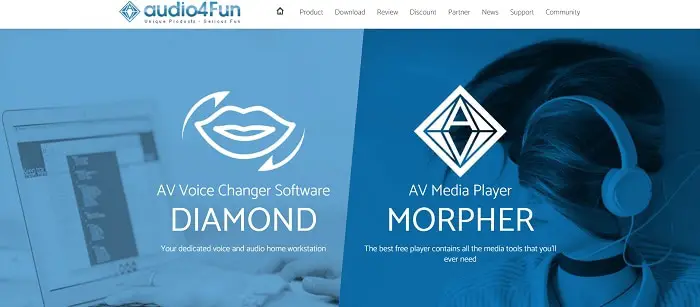 People rate it 3.9/5 with balanced reviews. This free voice changer for Discord is also a window version app that runs fine with Discord and on any version of Windows.
Visit: Audio For Fun
Clownfish
If you are looking for an all-in-one voice changer for Discord that provides you with smooth-running, less space used, various popular voices and effects, then you must try Clownfish. It also gives low bandwidth and CPU usage, which supports its smooth running on all versions of Windows. And as per some of the famous PubG players, it is the most popular discord voice modifier app in PubG for voice change, as it supports platforms like Discord, skype, etc. It has a rating of more than 4.1/5.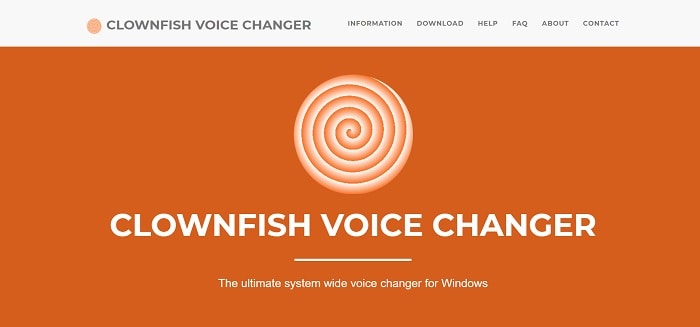 Visit: Clownfish
FAQ's
How can I change my voice on Discord?
You can change your voice on Discord by following these steps: In User Settings, go to the Main Window. In Voicemod, click on Voicebox. The new voice will then come from the microphone signal into Discord.
Is Voicemod allowed on Discord?
Voicemod is allowed on Discord. To connect to it, go to Voice and Video in App Settings and turn the Default to Voicemod Virtual Audio Device.
Is Discord voice changer free?
Discord offers free voice chat with basic voice-changing features. However, more advanced voice modulation options might be available through third-party bots or external software that could have associated costs. Explore the available options within Discord and check for any additional charges with external tools.
Is Discord voice safe?
Discord's voice communication is typically secure, but users should exercise care when providing personal details. Use private channels, verify users in public ones, and adjust privacy settings. Be wary of unknown links or unsolicited friend requests.
Conclusion 
All these voice changers for Discord are window-based; the reason behind not including the Android version is that Android app are not reliable because they do not provide the same services as shown on Google Play Store and have compatibility issues. Enable text-to-speech on Discord and stop typing out your replies.
Dedicated group of Computer Engineers making tech updates accessible to all. Our dream is to simplify and share tech news with everyone.