Anybody who loves music, that is to say, everybody, would naturally like to have access to a sizeable collection of their favorite tracks and pieces close to them. These days, the usual way to do it is via Streaming applications such as Spotify, Apple Music, and JioSaavn, which offer their consumers a wide variety of music in an organized manner.
Here is this list of the top 6 Loud Music Player For Android In 2023:
Musical
Phonograph
Pulsar
Music Player GO
Musicolet
Equalizer
There are tons of such music players for Android, making locating one that suits one's life a challenge. Here, we present four of the best such applications in the Play Store for all the audiophiles out there, which we believe are excellent. Remember that the order of these players is entirely arbitrary, and we do not take it as a rank. What's the loudest mp3 player? Let's dive in:
See also: Top 8 Alexa radio Stations That You Should Listen in 2023
List Of Loud Music Players For Android
Numerous choices are set out here. You would like to try and browse and perceive the options of the loud music player for automated decisions. 
Musical
First, as a loud mp3 player for Android, Musical is a lightweight music player with many features that offers an advertisement-free musical experience. It allows the user to control their music using earphone buttons; a single click for pause and play, a double click to skip to the next track, and a triple-click to return to the previous one.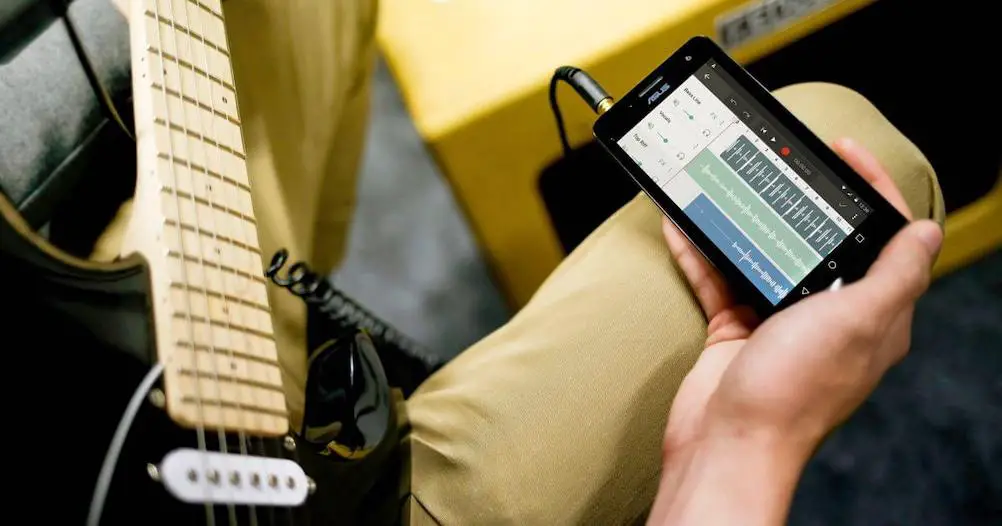 It claims to be the only available music player for Android that supports multiple playing queues. The musical has an intuitive GUI (Graphical User Interface) with easy-to-access tabs for folders, albums, artists, and playlists. Moreover, it has an equalizer, a tag editor, a sleep timer, and a widget option. We recommend this player highly in terms of functionality.
See Also: Top Music Apps That Cache Songs In 2023
Phonograph
Secondly, the loudest mp3 player for Android, Phonograph, is a visually appealing music player with a neat design user interface. The UI changes dynamically to match the color according to the content displayed on the screen. Its theme engine allows the user to customize the application as much as they'd like. But that's not all.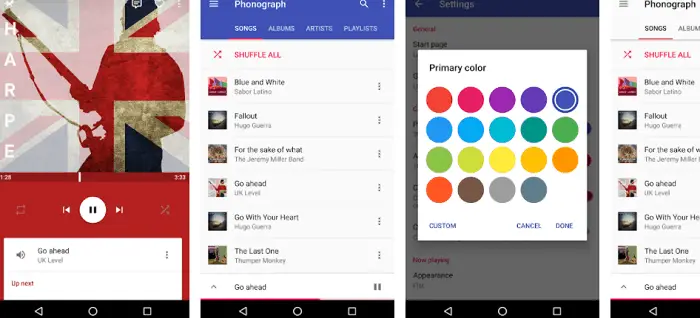 This music player is not only good-looking but also rich in features. The phonograph automatically downloads missing information about the existing media file. The tag editor in this player allows the user to easily edit the tags, such as the title and the artist, for single songs and whole albums. It also has other features, such as lock screen controls, gapless playback, and a sleep timer. The player offers in-app purchases. We consider it the loudest music player app for android.

Visit: Phonograph
Pulsar
Being completely lightweight and accessible, Pulsar is one of the most preferred free Android music players. It is advertisement-free and simple yet beautifully designed with a gorgeous user interface and animation. You can also modify the interface with different color themes. Furthermore, we can sort Pulsar's library view according to the various categories of album, artist, genre, or folders.
Moreover, the players offer all the other features like gapless playback, a home-screen widget option, a built-in tag editor, a 5-band equalizer (available in the premium version), and much more. Plus, there is also the option to create smart playlists based on recently played, most played, and newly added songs.
Visit: Pulsar
Music Player GO
Anyone looking for a lightweight, open-source music player for Android need not look beyond Music Player GO. This mp3 player for Android is perfect for users who have a budget smartphone and can't afford heavy, high-maintenance applications. In addition, this player features an advertisement-free, minimalistic and unified UI.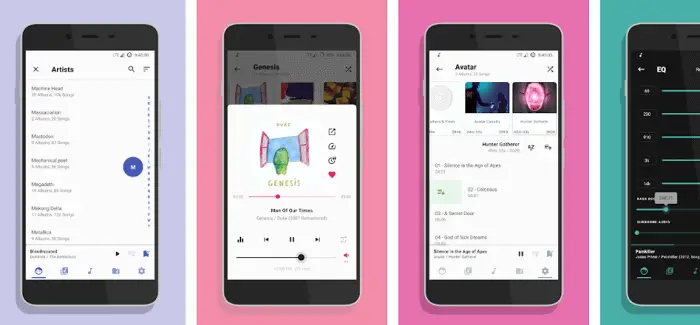 It comes with an equalizer and even multiple theme options. One can also set precise volume levels from the volume controls of the device. The player also allows the user to sort the songs by artists, albums, and folders and even hide folders that they do not want to include in their shuffle. The application is even available on F-Droid and GitHub.
Visit: Music Player GO
See Also: Top Playlists On Alexa You Should Listen To In 2023
Musicolet
If you're still searching for a loud music player for Android that's not too serious, Musicolet is here for you. Though you're a beginner, you'll use musicals. The critical issue is that you would need to speculate it is slow to grasp the functioning of this variety. This is one of the loud music players for Android.
This will result from several things that can happen with single, double, and triple clicks. 
Once you attempt this a handful of times, it becomes straightforward for you to perform the remainder. An essential and unique feature is that you have the flexibility to fill quite twenty queues. If you would like to manage this app together with your earphones, even that's possible!
Visit: Musicolet
Equalizer
Last one on the list of best loud music players for Android. You'll get a DJ feeling with this application because it possesses bass-boosting choices and permits you to twist the sound of the music in your manner.
Regarding ten equalizer area units provided during this application to form your DJ-party standout! Equalizer comes with an associate degree choice for you to require without charge or purchase.
Visit: Equalizer
FAQS
How to increase your Android Device's Maximum Volume?
First, to increase the volume to maximum on an Android device, press the volume key to improve it at the maximum level. Next, in Settings, adjust the sound volume, and lastly, try to connect the device to an external speaker for a louder experience. Also, you can download a volume booster application to enhance the volume.
Which Android music player has the best sound quality?
The most recommended Android music player with premium sound quality is- Poweramp Music Player, Foobar2000, VLC for Android, and AIMP. Try other audio-enhancing apps like Simple Music Player, Oto Music, and Pulsar Music Player.
How can I listen to high-quality music on my Android?
To listen to high-quality music on your Android, try these techniques: In Settings, adjust the Equalizer as per your choice. Manage the Bluetooth Codec Settings Download High-Quality Music through the browser Try Disabling the Absolute Volume of the Bluetooth device.
What app plays music the loudest?
The loudest music-playing apps, as recommended by the users, are- Volume Booster MAX, Bass Booster Volume Boost, Equalizer, Bass Booster & Music Equalizer, and Equalizer Fx.
Conclusion
Ultimately, it depends on the user and their needs. Users may want to experiment with different music players to determine which one gives them the best experience based on their tastes and preferences in genres and artists. A player that works for one type of music may not give good results for another.
Choosing the right loud music player for Android depends on the user's requirements, such as Chromecast support, synchronization of lyrics, customization facility, and home and lock screen widgets.  
See Also: 6 Best Audio Enhancer For Windows 10
Dedicated group of Computer Engineers making tech updates accessible to all. Our dream is to simplify and share tech news with everyone.