The Halo Infinite campaign's launch is a highly praised aspect. However, other than confronting The Banished, some players are against a far more difficult foe: The Halo Infinite Gaming Services Bug. Thankfully, we can help you handle Halo Infinite Launches Gaming Services. So, if you face any gaming service bug, do the following.
There are several ways to handle and fix the Halo Infinite Gaming Services Bug. We provide a comprehensive guide on how to fix the Halo Infinite Gaming Services bug error and avoid any future bugs. However, let us first understand Halo Infinite Game Services.
Read this step-by-step guide to resolve the issues with Halo infinite gaming services on Xbox.
What is Halo Infinite?
The Halo Infinite stands as the recent installment from the Halo franchise. Halo Infinite launches gaming services, the game's 16th installment and the first since 2018. Halo Infinite was released on PC and Xbox consoles by Xbox Game Studios. As it is a new game, you can expect occasional issues to arise as devs make the required adjustments to make the Halo Infinite game stable across all platforms.
As the title is now available through the Xbox Game Pass, many PC users play it through their Xbox Game Pass subscription. The Xbox Gaming Service bug in Halo Infinite was a common issue for many users.
According to reports, Xbox Game Pass users who use PC cannot directly launch Halo Infinite because of an error that redirects the users to the Microsoft Store. This is extremely inconvenient because you can't even access the main menu to change your profile or see what's happening in the game. Server-related issues or corrupted game files typically cause this error. However, it could also result from third-party apps or incorrect game installation.
See Also: Best Gaming Routers For PS4, PS5, And Xbox
How To Remove or Fix Halo Infinite Gaming Services Error
Today, we'll review the most effective ways to fix the Xbox Gaming Service bug in Halo Infinite. Let's get right into it!
Check Game Servers.
Check the game servers whenever you encounter problems in Halo Infinite. Because Halo Infinite is a multiplayer online game, it relies heavily on its servers to deliver content and connect users.
You can use effective third-party tools to check Halo servers and view live game updates.
If the servers are down, the only thing you can do is wait. Only Halo can resolve server-related issues, and any changes to your device will be ineffective.
If the servers are up and running, you can move on to the next method to troubleshoot the issue on your device.
Restart Your Computer
Unsure about Halo Infinite not launching pc gaming services? Or is Halo Infinite compatible with your PC? Do the following:
If you're having trouble starting Halo Infinite, restart your computer. This enables the system to reload Halo's files, removing any appearing bugs or minor glitches that appear during the run time.
Here's how to restart your Windows PC:
Access the Start Menu on your computer by clicking the Windows icon in the Taskbar.
Finally, click shut down to reboot your computer.
After that, try launching Halo Infinite to see if the problem has been resolved.
Re-Login to Xbox App
As previously stated, this issue in Halo Infinite Microsoft Gaming Services launches gaming services only occurs if you use Xbox Gaming Service to play Halo Infinite. To resolve the issue, log out of your Xbox account on your PC and reset your user data. This should clear out any corrupted data in your account.
Here's what you need to do:
Press the Windows + I keys on your keyboard to open Windows Settings.
Afterward, go to the Accounts tab and locate the Xbox Gaming Service account you used.
Once done, return to the Xbox app on your PC and sign back in.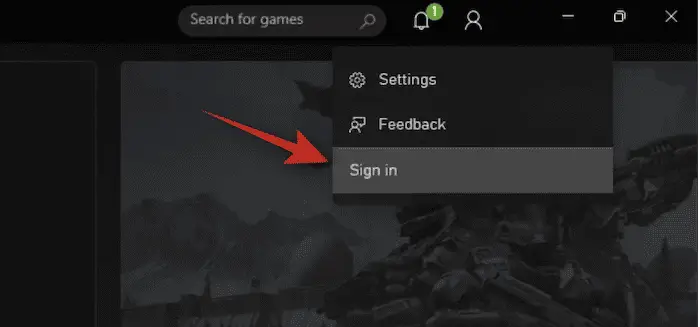 Restart Halo Infinite to see if it still redirects you to the Microsoft Store. Want to learn about RNG in gaming? Check out.
See also: Best Xbox 360 Singing Games To Enjoy With Friends And Cousins [2023]
Check Your Date & Time Settings
Like with any application available, when you use the Xbox app and the Halo Infinite, check the system's time and details to ensure that everything is adequately configured. If the time on your system is incorrect, Halo's servers will refuse to accept your connection, explaining why the game will not launch.
To resolve this, follow the steps below to change your Windows system date and time settings:
After that, click on Adjust Date/Time.
Finally, ensure that Set Time Automatically and Set Time Zone are turned on.
After that, restart your system and try to launch Halo Infinite.
Set High-Resolution Textures
You should also enable high-resolution textures in the game settings.
Go to the settings menu and experiment with disabling unnecessary textures or graphics-related settings to see if the issue has been resolved. Also, you can start your journey if you plan to begin a cloud gaming service in 2023.
See Also: 4 Methods On How To Factory Reset Xbox One X | 2023
Reset Halo Infinite, Gaming Services, and Xbox app
If you continue to experience the Xbox Gaming Service bug in Halo Infinite, we recommend resetting the game. This should restore the game to its default state, like a fresh install.
What you must do is as follows:
Lastly, locate Halo Infinite and press the Reset button.
Restart your system after resetting the game to see if the problem has been resolved.
Check for Gaming Service Updates
To resolve the Halo infinite launching gaming services issue, check for the Gaming Services app update on the Windows computer. It is possible to do so from the Microsoft Store app by following the steps outlined below:
Go to the Microsoft Store app > select Library.
You can also try checking for Xbox app updates.
Contact Halo Infinite
If none of the solutions for Halo infinite launches gaming services worked for you, we recommend seeking professional assistance. Go to the Halo Infinite Support page to submit a ticket and contact the Halo team. On the other hand, you can look through their guides to see if you can find any other solutions.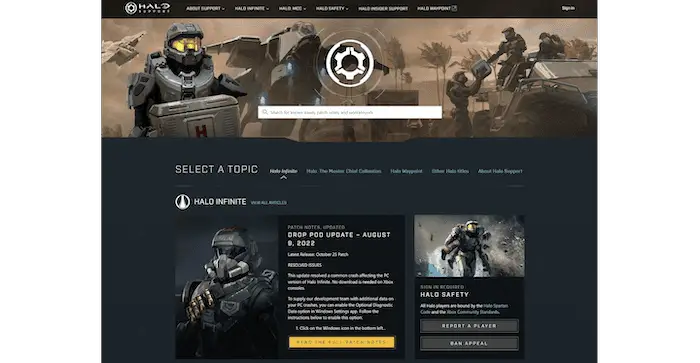 That concludes our guide to resolving the Xbox Gaming Service bug in Halo Infinite. Please leave a comment below with your questions and concerns, and we will do our best to respond.
See also: How to Change your Gamertag on Xbox App
FAQ
What Is the Halo Infinite Gaming Services Bug?
Xbox Game Pass subscribers on PC are affected by the gaming services bug. This appears to be happening. On the Xbox app, players press the Play button. Instead of launching the game, it redirects you to the Windows Store to read about the Xbox Gaming Service. Which, while potentially appealing to some players, isn't why they came. It's a gaming error that affects only the Xbox app on PC. If you engage in Halo Infinite through Steam, you're safe.
Similarly, Xbox console users will not have to deal with this. However, if you're on a PC and playing the game through the Xbox app, use the solution we outlined above. And you don't have to anymore worry about being banished conflicting The Banished.
What will be added to Halo Infinite at launch?
At launch, 343 Industries released the foremost 100-tier pass of, which included Halo: Reach-themed armor, exclusive coatings, and other exclusive cosmetics. Season 2 follows a similar format, centered on the original 'Lone Wolves' theme, and expands on the options of customization available in Halo Infinite.
Is Halo Infinite CPU or GPU heavy?
Halo Infinite is both CPU and GPU intensive, with minor performance issues that 343 Studios is still working on. It goes without saying that Halo Infinite is a resource-intensive game.
Can i7 run infinite Halo?
However, if you want to play the game at higher settings with smoother FPS, you'll need beefier specs. The following are the developers' recommended specifications for Halo Infinite: Windows 10 19H2 x64 is the operating system. Intel i7-9700K or AMD Ryzen 7 3700X CPU.
Is Halo Infinite good for a low-end PC?
Best Halo Infinite PC Settings: Minimum These settings of Halo Infinite PC are intended for all low-end systems and users who emphasize FPS over visual quality. If your system can achieve more than 60 frames per second with these settings, feel free to experiment with some of them to see if your FPS remains stable.
Does Halo Infinite run better on Steam or Xbox app?
The only difference, as others have mentioned, is that the Steam version of the game appeared to spend less time on a loading screen. I spent significantly more time loading and less time looking at the little map teaser before a game started on the Xbox App version. On the Steam version, the order is reversed.
See also: 7 Similar Games Like House Party
Conclusion
These quick fixes for Halo Infinite's connection issues will suffice until the game's developers release a permanent fix, which we can expect soon. Each of the fixes listed above is relatively quick to try, so players should try all without investing any time in the troubleshooting process. Hopefully, a fix for all the connection errors will soon be available to the public, along with the challenges and Battle Pass fixes for Halo Infinite. In the meantime, players can also experiment with each of these quick fixes to find one that works for them and continue enjoying everything Halo Infinite offers.
See Also: Install Xbox Games Faster Using These Simple Steps Today | 2023
Lead Photographer, Lead Advice Editor for @CNET in Europe. Love: the outdoors, music, food, snowboarding, animals, beer, coffee, lists. Personal views.