Smartphones are on the rise, and with the cameras getting better & better with each generation, people are beginning to take more and more photos. Be it regular selfies, a beautiful shot of a landscape, or pictures of foods & dishes. Of course, to enhance the pictures, you might need a photo management software. In this article, we will talk about the uses of the photo management software and some of the best you can use.
On average, a person takes at least 10 to 15 pictures before selecting the best shot & sharing it on their social profile. This means that there are literally thousands and thousands of photos in your storage, and it eventually becomes quite a chore to find what you are looking for in an unorganized mess. This is where photo management software comes in handy.
See Also : The 5 Best Screenwriting Software for Professional and Amateurs in 2020
5 Best Photo Management Software for Windows in 2021
A photo management software is a neat program that keeps your photos organized so that your images are not cluttered but instead arranged in an orderly fashion so that you can easily find what picture you were looking for. Some software even allows you to add custom metadata & tags to help you easily categorize your images as per your needs. Here are five of the best photo management software available in 2020 to help you decide which one you should rely on.
Adobe Bridge CC
This fantastic piece of software is one of the best photo management software for professional photographers & offers tons of useful features. It comes bundled with any of the Adobe Creative Cloud products like Adobe Photoshop or Lightroom. This means you won't have to pay any extra money for the Bridge CC. If familiar with other Adobe programs, the interface of Bridge will seem pretty familiar. There is an easily accessible option for importing photos directly from your camera, cold-reader, pen-drives, mobiles & other storage devices. You can upload in bulk while keeping the metadata intact.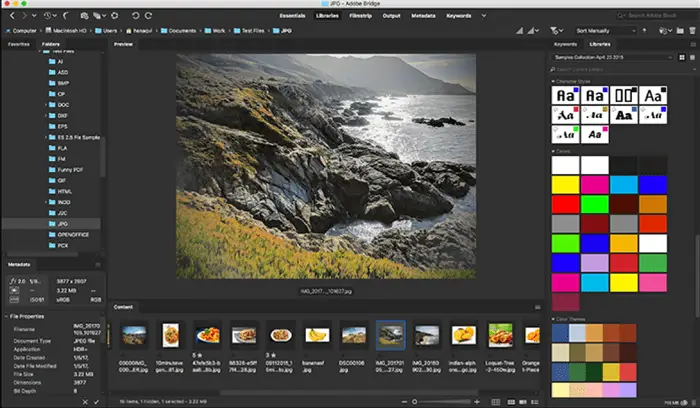 Another great feature of Adobe Bridge is batch editing. You can edit a particular batch of photos simultaneously by applying a unified color scheme. This saves a lot of time & effort from the user. Other useful features include on-demand metadata generation, batch export, batch edit metadata & photo capture time, on-demand thumbnail generation, batch rename, ability to add tags, and adding watermarks for stock images.
See Also : Top 6 Game Development Software to Make Games on Windows
Although this program is one of the best photo managing software out there, it can be a bit overwhelming for managing just personal photos. For that purpose, there are many other programs out there, which brings us to our 2nd product on this list.
Visit : Adobe Bridge CC
Google Photos
There isn't a single person in the current age who doesn't know about Google. It has a good arsenal of products & services which are currently dominating the digital market. Google photos are one such product. Like many other Google products, Google Photos is free & you will only need to pay for the extra cloud storage. You will never run out of it if you upload images in the standard resolution instead of the original resolution. This means endless cloud storage for your pictures.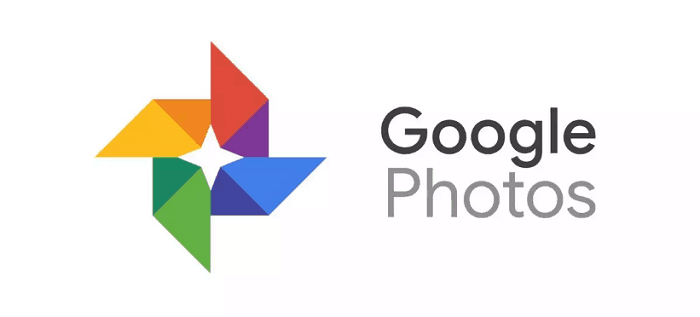 Google Photos also offers the right amount of useful features & some necessary editing tools. The software also uses artificial intelligence technology to categorize your photos automatically. You can also use the face-detection to search for a specific person's pictures and group them. Other salient features include easy drag and drop upload, on-request metadata generation, batch processing, easy export & sharing on social media, tags, and filters.
Thus, it is one of the best free photo management software out there, with many offered features in premium programs.
Visit : Google Photos
See Also: Digital Asset Management System [The Complete Guide]
Mylio
Mylio is another excellent free photo management software. It also has a mobile app for people who want to manage their images on the go. A useful feature is the option to import pictures directly from your Facebook account. You can encrypt your photos for added security. Mylio isn't entirely cloud-based. Therefore, you can easily view your images offline without any internet connection. You can connect up to 3 devices with one account & designate any one of them as a vault. This vault will store all your images & videos so there will be no shortage of storage until the vault gets full.
See Also : 5 Best System Monitoring Software You Must Try for Windows in 2020
Other features of Mylio include some essential photo editing tools and some advanced sliders for more experienced users. It also uses facial recognition for categorizing photos based on people's faces. This program is more than enough for essential photo management and editing. If you are willing to pay more, there are also Pro and Max versions of this app available, which offer some more premium features.
Visit : Mylio
XnView
XnView is a multimedia viewer, photo organizer, and photo editor all in one program. It recognizes more than 400 file formats. The interface is quite simple and elegant, and it won't take much of your time to learn around it. You can also use this program for lossless JPEG conversion. Its photo editor also is quite rich in features allowing the more experienced users to make the most out of it easily.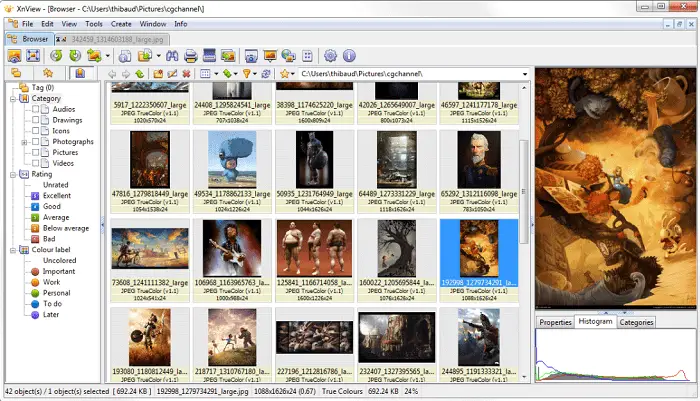 Some of the more useful features include duplicate file finder, batch processing of images, and other fundamental features like categorizing and adding tags. This photo management software is compatible with Windows, Linux, and Mac OS. Also, it is completely free for educational and non-commercial usage.
Visit : XnView 
Phototheca
Phototheca is yet another powerful photo management software which offers a lot of exciting features. One notable feature is a smart album. This feature identifies specific data from your images such as theme, location, event, etc. and automatically creates albums for you. It also identifies duplicate images, so your storage doesn't get full needlessly.
Its photo editor is also rich in features and offers many advanced modes. For the more basic user, there are also a ton of filters available to edit your images easily. Phototheca supports various file formats, and you can easily import data from your storage devices without any loss of metadata. Apart from the fundamental features, it also supports password protection and native iOS support.
Visit : Phototheca 
Last Words
These were some of the best photo management software out there for editing your images. There are free ones as well as premium programs on this list. Therefore, you can choose which one to select, depending on your usage and needs.
See Also : Top 6 Piano Learning Software to Improve Your Keyboard Skills
Hey everyone! I'm just a simple guy who absolutely loves tech. It's my dream to make sure that all the updates in the tech world reach everyone is simple words. Hope you have a good time on my blog! 🙂