Amazon Fire TV Stick is a new device, a central container for all your desired content, including music, games, TV shows, and subscription services. It plugs directly into the HDMI TV via a USB port, connects to wifi, and houses the media, which you can carry anywhere. The new Fire TV Stick is easily transportable and promotes HDR video; thus, it has become common practice for people to switch from regular TV services to streaming technologies.
As we know, television has been a part of us for centuries. However, switching to internet-based entertainment is not as easy as it seems since streaming services like Netflix, Amazon Prime Video, and Hulu, apart from their extensive content library, do not offer local channels. Naturally, people seemed confused about whether switching to the Amazon Fire Stick service is a good decision.
Although, listed below are the few ways to help you get local channels on firestick Amazon.
Combining your Amazon Fire Stick with regular TV service
The first and the main idea is to combine your amazon fire stick with regular tv services, Though the pre-requisite for this idea is that your tv should support shifting between two inputs. This is a hassle-free solution through which you can watch the streaming goodness via the fire stick in one information and the old-gold local television channels through the other local channels on firestick.
Using live streaming services
Here are some live streaming services.
Sling TV
Sling is one of the most dependable cable TV alternatives. It allows users to watch live sports, news and hit TV shows and movies. Next, it includes primary channels as a core package and a dozen add-on packages ranging from sports to premium packages. It allows the users to record their beloved show with the help of the Cloud DVR feature.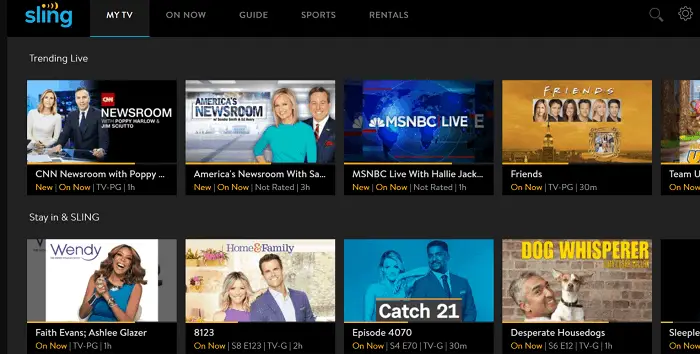 The service also offers some ability to rewind a show and watch older programs on-demand. There are three primary package levels: Sling Orange, Sling Blue, and a combination package combining Orange and Blue. All offer a variety of channels and characteristics depending on where you reside. This is one of the good local channels on firestick.
Visit: Sling TV
See Also: Ways To Fix SportsDevil Web Request Failed ERROR
Hulu Live TV
Hulu Live TV has one of the top channel selections of any of these services, and it offers live TV streaming starting at $64.99 per month, making it the best alternative to cable TVs. You can watch Hulu Live on any device compatible with it, including streaming players, computers, mobile devices, and more.
It includes many local and offers HD streaming to any device, including the Amazon Fire TV Stick. However, to access Hulu add-on channels or Hulu premium, the price varies from the range mentioned above. It's easy to get access to some local channels on firestick like this one.
Visit: Hulu Live TV
YouTube TV
Despite being a new live streaming service, it has gained a lot of progress and appreciation. It is recognized as a reliable source of streaming services by cord-cutters as an alternative to cable. It is a streaming service from Google, which allows you to stream on-demand 85+ live channels without any contract.
That is, you can cancel the subscription whenever you want. Google keeps on updating and upgrading its list of contents so that you never run out of things to watch. It is the most wilding and popular streaming service of 2021.
Visit: YouTube TV
Live TV with Multi-Channel Apps
Several apps are available for the Fire TV stick that provide free access to local channels on firestick content stations for major metro areas.
Swift Streamz
It presents you with 700+ TV channels free of charge. Therefore, it is one of the best apps for watching live tv on the Fire Stick. Swift Streamz is ad-supported, tho some of its striking features like DLNA supported, no subscriptions required, supports multiple video player, and is Chromecast supported, ensures that you get the most enjoyable entertainment experience.
It gives you limitless opportunities with new features, new modes, and new delight every day. Good to go local channels on firestick.
LiveNet TV
It is a worldwide popular app among local channels on firestick that gives you a chance to view 800+ channels from various nations. This app allows you to watch channels from all across the globe, including the US, Europe, India, and the UK other regions. You can download this app on your Fire Stick using the downloader app from the Amazon store.
Apart from the excellent streaming quality, it has proven to be a reliable source of content. It is an ad-supporting app. Thus pop-ups are pretty standard and cannot be avoided.
Kodi
Kodi is one of the most important streaming centers as local channels on firestick because of its excellent interface. Moreover, It has an additional characteristic of supporting the third-part add-ons. Kodi is a free, compelling, and open-source media player application with many customization options available, and the ability to play almost all files makes it remarkable and demanding. In addition, It allows syncing of media libraries across various devices. With add-ons for black and white movies to crackle, this is the most solid available multi-channel market.
Although one of the major drawbacks of these apps is the legality associated with them, these apps provide a mix of content, you may not view licensed content, or they don't have the authority to broadcast them.
Thus, it can trigger objections from your ISP if it finds that you are watching something that is not suitable or deprived of their rights. Hence a safe way to view your content is to install a VPN on your Fire Stick.
See Also: How To Add Disney Plus To Vizio Smart TV?
Conclusion
These are some of the ways with which you can enjoy both internet-based production and local channels on firestick using Amazon.
See also: Lost Firestick Remote? 7 Methods To Replace The Lost Remote | 2022
Hey everyone! We are a group of Computer Engineers who have dedicated their lives to tech. It's our dream to make sure that all the updates in the tech world reach everyone is simple words. Hope you have a good time on the blog! 🙂