You can enjoy and watch content on Apple TV. You can control your TV remotely. Yes, this is right. Many assume they need more time because Apple needs to provide a remote application for the Android platform. You can read about the Best Apple TV Remote apps.
The Best Apple Tv Remote Apps you should try right now are SURE Remote, CiderTV Remote, Peel Smart Remote, AIR Remote, Unified Remote App, etc. Apple TV remote apps can communicate with your Apple TV via WiFi via an IR transmitter included in your phone.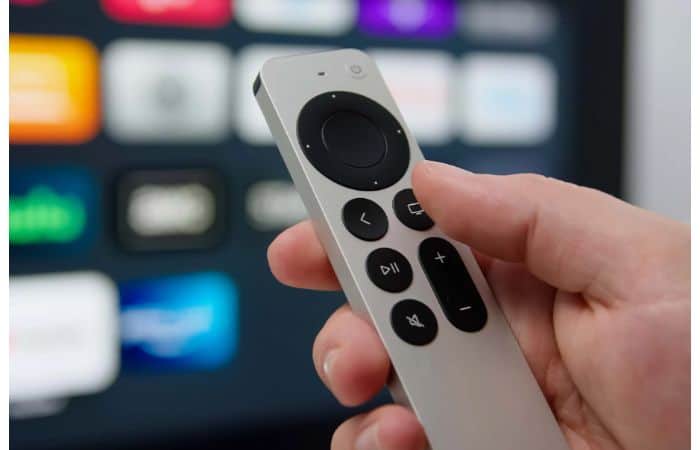 Apple doesn't formally provide a remote app for the Android operating system. However, numerous third-party Apple TV remote apps allow users to manage and operate Apple TV from an Android device offered in the Google Play Store. Here is the list of the best Apple TV Remote apps. Read below to know in depth.
See Also: How To Connect Roku To WiFi Without Remote
7 Best Apple Tv Remote Apps
You can communicate with your TV by using your phone to send signals to an IR receiver, which your TV will be able to understand. A list of the top remote control apps is provided below.
SURE Remote
With the SURE Smart Home and TV Universal Remote software for Android users, you can operate your Apple TV remotely from any location. SURE is compatible with all of your Android gadgets, including Apple TV.
Enter all of your home automation devices after opening the app for the apple tv remote. You must add and connect each device to your phone separately. You can also use IR if your Android phone can do so. Additionally, the SURE Smart app provides more complex features like voice activation and a media player.
See Also: Four Best Methods On Resetting Vizio Tv Without Remote
CiderTV Remote
CiderTV's Apple TV Remote is among the top Apple TV Remote applications. Using your Android app, managing this app is quite simple. You can use the provided remote to manage your Apple TV viewing in several ways.
Changing the program option is one way the CiderTV remote may enhance your home entertainment experience. For instance, your Android phone allows you to pause, rewind, and replay your favorite shows. Although Apple TV is free to connect to, a pro version is required to use more devices. This implies that you can switch what you watch while away from your TV. 
Download: Android
See Also: How To Connect Xbox With PS4
AnyMote Universal Remote
The utility-related AnyMote Universal Remote app for Apple TV is a cheap and best apple tv remote app. The capabilities one would anticipate from a modern smartphone are present, and the interface is relatively simple. Apple TV and other digital gadgets like PCs, TVs, DVRs, music players, and smartphones can all be controlled by it. 
Additionally, it has spyware prevention and a password protection option. The cell phone model being utilized to operate AnyMote Universal Remote and WiFi determines the install size in full.
The advantages of having anyMote products are numerous and are listed below. More than 150 appliances and gadgets are available on AnyMote Universal Remote, including recent and vintage types. Thanks to its infrared technology, you may use infrared blasters to control gadgets with the AnyMote Universal Remote.
Download: Android 
See Also: Best Galaxy Watch Apps In 2023
Peel Smart Remote
Peel Smart Remote, an app, can replace Apple TV remotes. It includes all functionality of the jailbreaking Apple TV remote. It has an interactive visual TV guide and a universal remote. You can control your Apple TV only by clicking on the tiny remote icon.
The Peel Smart Remote App is one of the best Apple TV Remote apps that transforms your tablet or smartphone into a simple television remote control. Incompatible devices won't be able to access all Peel Smart Remote's features because the software relies on the IR blaster installed into your device.
This application is a universal remote control for any Android smartphone or tablet. If it isn't already configured to function as a remote, you can even configure your phone or tablet to do so.
Like previous remotes, the Peel Smart Remote enables customers to operate their TV from anywhere in the world. Thanks to the pre-loaded famous cable and satellite channels, you may enjoy well-known shows and programs wherever you are.
Download: Android 
See Also: Best WiFi Password Decryptor Tools
AIR Remote 
Only devices with an IR-blaster may communicate with and be controlled by the AIR Remote app. You cannot use this app if your Android phone lacks an IR sensor. It has an easy-to-use interface and manual for apple tv remotes for Android.
You can connect your Android phone and Apple TV without first pairing them. The free AIR remote can access all the necessary media player controls. Only subscribers to the premium plan are eligible for the ad-free service. 
TV (Apple) Remote Control
TV Apple Remote Control was an amazing creation. Try this apple fire TV Remote Control app if the ones above don't meet your needs.
The remote control is really simple to use. You may use your TV remote to change stations, adjust your TV's level, and control apple tv with Android. The user interface is straightforward to use. Because you don't need any technical expertise to utilize it, it is also incredibly user-friendly. Although they all have unique features, they are all made simple to use.
See Also: Fix "Wifi Doesn't Have A Valid IP Configuration" Issue
Unified Remote App
The finest apple tv remote app android for managing Apple TV and all media controls is the Unified Remote App. This is because the display on the Remote has been optimized to operate well with the larger version of the Apple TV. You may browse device files, watch videos, listen to music, rapidly search contacts and calendars, and more with a single device.
The Remote provides quick access to the device's main control panel and is one of its most crucial features. The Apple TV unified remote app offers more than just a minor modification to the existing Apple TV games and Remote. Instead, it allows users to use a single app across all Apple TV devices, maximizing their capabilities.
FAQs
Can an Android phone be used to operate Apple TV?
Through the IR blaster that is embedded into the phone, the AIR Remote app can operate Apple TV. It has an easy-to-use interface and manual. You cannot use this app if your Android phone lacks an IR sensor.
Which Android TV remote app is the best?
One of Android's most cutting-edge TV remote applications is CiderTV's Apple TV Remote. Using your Android app, managing this app is quite simple. You can use the provided remote to manage your Apple TV viewing in several ways.
How does the Xfinity TV Remote work?
We all have a lot of remote controls between TV, DVDs, Apple TVs, and gaming consoles. An iOS software called XFINITY TV Remote is available for free. You can operate your TV from a mobile device with this app.
What does the new Apple TV's Black Remote do?
Each new Apple TV comes with this black glass remote. Use the touch trackpad on top of the Remote for menu navigation and playback control. Thanks to Smart Control, you can use the companion app on your iPhone or the remote to control all of your gadgets, including your Apple TV.
See Also: Mac Keeps Disconnecting From WiFi
Conclusion
This article was about The Best Apple TV Remote Apps You Should Try Right Away. These finest Apple TV remote apps for Android work similarly to the actual remote controller and perform the operational task flawlessly. To control Apple TV, download the top Apple TV Remote apps.
Hey everyone! We are a group of Computer Engineers who have dedicated their lives to tech. It's our dream to make sure that all the updates in the tech world reach everyone is simple words. Hope you have a good time on the blog! 🙂