In every walk of life, we learn and see new things, like today I will talk about Watch Sky Go on your smart TV. It was initially launched on 11 January 2006 as Sky by Broadband.  As we all know, Smart TVs are indeed a blessing in today's day. Sky Go is an online television service from Sky Group that allows users to watch live and on-demand Sky TV via an internet connection. The Sky Go app is available on Windows and Mac computers and also on Android and iOS devices. 
To transfer Sky Go from your iPad to your TV, follow these three simple steps:
Ensure your TV supports screen mirroring or have an HDMI port.
Connect your iPad and TV using an HDMI cable or an appropriate adapter.
On your iPad, swipe down from the top-right corner to open the Control Center.
Tap on the "Screen Mirroring" or "AirPlay" option and select your TV from the available devices.
Enter the AirPlay code if prompted.
Your TV will now mirror the screen of your iPad. Open the Sky Go app and play the content you want to watch. The TV screen will display it.
The advent of the streaming era brought with it so many applications for our entertainment. Today we have Netflix, Prime, Disney +, and 100s more different streaming platforms. We can enjoy premium quality cable content, a great application via Sky Go, especially with an accessible sky go mirroring hack.
Note: Sky Go allows viewing on up to two devices by default. If you want to increase the device limit to four, you can subscribe to Sky Go Extra for a monthly fee. Please note that playing content on computers requires the now-deprecated Microsoft Silverlight browser plug-in. You may also like to check out how to Retune Sky Box.
See Also: Watch Sky Go On LG Smart TV | Complete Installation Guide
What Is the Sky Go App?
Due to viewing rights, specific programs are not available to watch via Sky Go and are 'blacked out' from the schedule. To access the full selection of live TV channels available on Sky Go, users will need a subscription to the relevant Sky TV packages that correspond to the available channels.
Sky Go has been around forever and is one of cable TV lovers' most preferred streaming platforms.
 Now, before we get into explaining the sky go mirroring hack, let's look into what the Sky Go app is.
The Sky Go is an application to enjoy your Sky Go cable content anytime, anywhere.

With the Sky Go application, you can watch live TV from a host of

Sky channels on your mobile, tablet, computer, or laptop. Watch programs On Demand on your mobile, tablet, computer, or laptop. Connect the 

Sky Go

 app to your 

Sky

 Q box so you 

can

playback and download recordings and use it to record to your box.


If you're here, you must be wondering, 'Can I put sky go on my smart tv'? Well, the answer to this question isn't exactly straightforward. Unfortunately, the application doesn't allow direct streaming on a smart TV. That being said, you can yet watch the content of Off Sky Go by using our sky go mirroring hack. We will list a total of two ways via which you can get sky go to tv.

 

 
See Also: Why Is Sky Go Not Working On Firestick? Fix It With These Simple Steps
List Of Sky Go Mirroring Hack To Get Sky Go On TV
Let's look at the sky go mirroring hack to get sky go on tv. You may also check out how to get Freesat on Sky Box.
HDMI Hack
Our first sky goes mirroring hack is the sky go HDMI hack. This is one of the most popular and easy ways to enjoy Sky Go on the big screen. All you require is your laptop and an HDMI cable cord, and you're good to go. Now, you could also use a VGA/DVI connection on older devices. You could also use a more flexible Thunderbolt port, but frankly speaking, the HDMI method is the easiest. Here are step-by-step instructions for using an HDMI cable to view Sky Go on a smart TV:
So here's our easiest sky-go mirroring hack. However, if you don't have an HDMI cable, move on to the following method.
Use Screencast
The next Sky Go smart tv hack on our list is to use Screencast. Now, the prerequisites of this method include owning a Chromecast TV or dongle. Now a lot of rumors have been floating around about Sky Go's compatibility with Chromecast. However, it is impossible to use Chromecast to view Sky Go on the big screen today. So, before you commence with the following steps, ensure that your Chromecast has been integrated with the Google Home app. Additionally, please ensure that your Chromecast and iOS/Android device's screen, which you wish to mirror, is linked to the same Wi-Fi.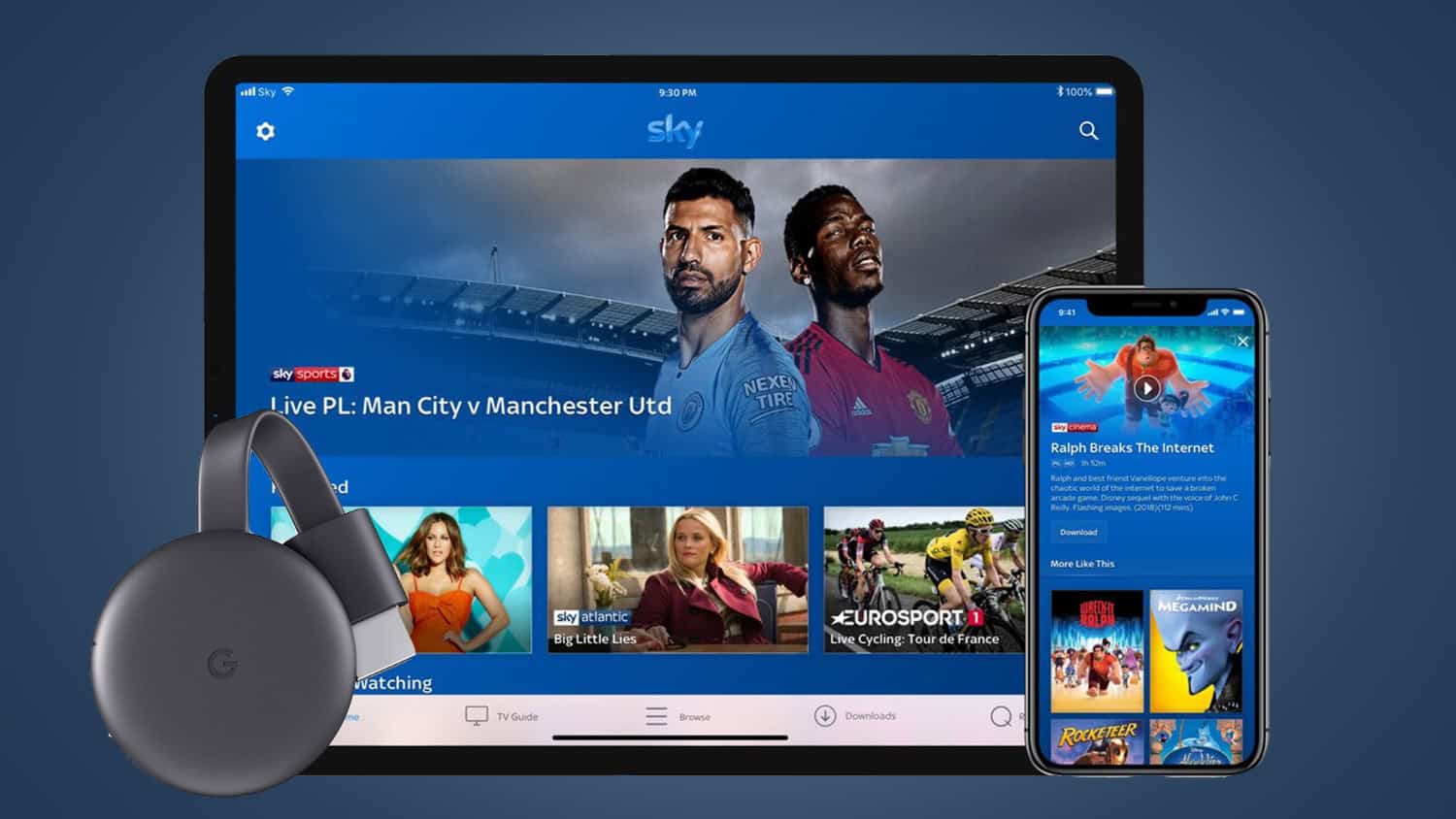 Open up the Sky Go application on your Android/iOS device. Next, play the content that you wish to view on the big screen. Next, go to your apps column once again to launch the Google Home application. Now, select the Chromecast device. Select the Cast My Screen option. This will mirror your respective device's screen to the TV. Finally, select the 'Cast Screen' option, which will come up on the next screen.
FAQs
Why is Sky Go unable to provide screen mirroring?
Sky Go currently has yet to get the feature that allows users to project material from their phone to their TV, despite numerous apps doing so. The rights Sky has to its content are the answer. Sky prevents subscribers from casting material on their TVs, unlike other streaming services.
Can I use a projector to view Sky Go?
It is simple to connect your Sky or Virgin box to your projector. Your AV receiver's HDMI In port is where you will join the HDMI from your Sky or Virgin box. Hence, utilize the HDMI Out connector on your AV Receiver to connect an HDMI cable to your projector.
Can I access Sky Go on a different TV?
By configuring the Sky Go live and on-demand service, Sky subscribers can make the service available to others. Sky allows you to link up to six devices, including phones and gaming consoles, to your account.
Is Sky Go extra free?
You may download shows with Sky Go Extra and watch them offline on up to four devices, including gaming consoles. Thanks to this, you can now use multiroom capabilities without purchasing a Sky Q Mini box. Sky Go Extra costs extra, but if you already subscribe to Sky Multiscreen, it's free.
How many devices does Sky Go support?
Sky Go permits you to add up to six devices. By default, Sky TV programs can only be viewed on one device simultaneously. However, you can simultaneously stream content on any two devices if you upgrade to Sky Go Extra.
Conclusion
One of these ways will definitely work for you. Now, you can enjoy cable TV via the Sky Go application with ease. Recently, Sky Go has extended its support to over 100 channels. Thus it's bound to keep you busy during the times you're bored. So here's our sky-go mirroring hack in detail.
Note: On 22 January 2013, Sky Go Extra's download service was added, allowing up to four users to download content to their computers, smartphones, and tablets to view offline for an additional monthly fee. The download feature was previously available for free in the Sky Go Desktop client.
Also See: How To Turn Off Roku Express
Carly Earl, Guardian Australia's pic editor, was a photographer and pic editor in Sydney for 8 yrs. She worked for The Daily Telegraph and Sunday Telegraph.