Smart TVs have replaced previous paid TVs and have become one of the most important options for a truly extended experience. In addition, smart TV lets you watch Internet-based apps or OTTs intelligently. Vizio is one of the best manufacturers for the best experience in terms of smart TV.
To add apps to Vizio SmartCast, follow these steps:
Turn on your Vizio SmartCast TV and ensure it is connected to the internet.
Press the "V" button on your remote to open the SmartCast home screen.
Navigate to the "Apps" section using the arrow keys.
Select the "All Apps" option to view the available apps.
Choose the desired app and select "Install" to add it to your SmartCast apps library.
But how do you want to see the best TV services and other internet services on your Vizio Smart TV? Well, we'll have a look at the best options available at your disposal if you want to know how to add apps to Vizio smart tv.
See Also: How To Reset Vizio Soundbar? [Complete Guide]
How To Add Apps To Vizio TV?
While we will focus on the right options for adding apps to Vizio Smart TV, we will focus more on the spectrum app on Vizio Smart TV. While you may find it easier and simpler to add apps to Smart TV with ease than most other Smart TVs and Android TVs, it is not the same as Vizio Smart TV. Vizio TV has changed how it installs applications on its smart TV range over the last few years. You will need to use the SmartCast platform to add apps to the Vizio Smart TV. You can easily handle options on how to add apps to Vizio smart tv with a few special options.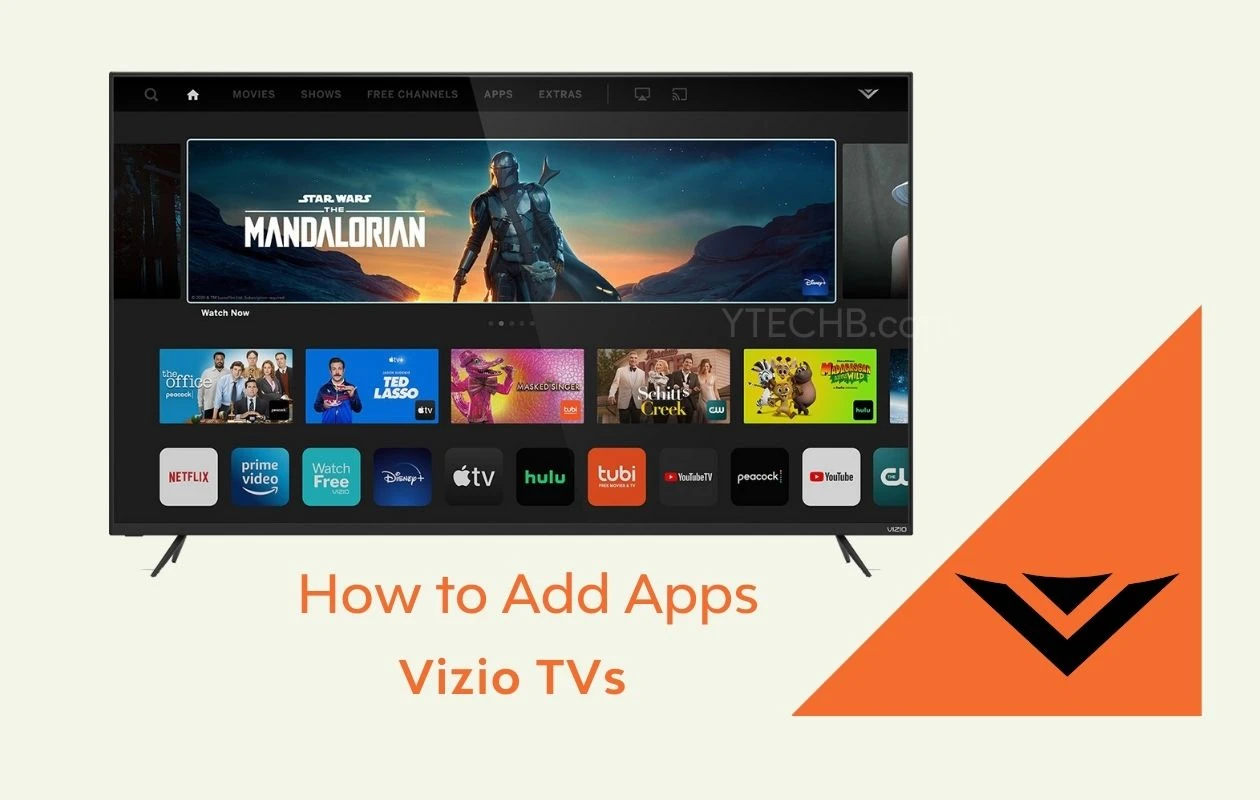 VIZIO VIA & VIA Plus TV – You will be able to install apps through the default app stores
VIZIO Smartcast HD TV –

 This was released between 2016 and 2017 and did not allow any application to be installed. You can only Chromecast your content.

VIZIO Smart-Cast 4K Ultra High Definition TV – This series of TVs come with an already built-in Smart-Cast TV application.
Smartcast app compatibility is installed on your Vizio TV. It offers you access to some Smartcast Core applications that you can install directly on your Vizio Smart TV. Overall all other apps will need to be cast on your TV and cannot be installed to work directly on the TV.
Vizio Smartcast TV Core Apps
Bible CBS All Access CBS News Cocoro

CNTV Crackle Curiosity Stream DZNN

Dove Channel Fandango now films Rise Fitfusion

Love Destination NBC Netflix News

Plex Pluto TV Prime Video (Amazon) Redbox

Taste Toon Goggles TV Games Voodoo

Watch the free Zumo YouTube YouTubeTV
See also: How To Watch HULU On Firestick/Fire TV In 2023?
Add Applications To Vizio Smart TV Using Chromecast
Unfortunately, if you need to know how to add apps to Vizio smart tv, you have no choice. However, you can follow the steps below so you can cast those on your Vizio Smart TV. The steps will also hold well for the Visio Spectrum application.
Go to the Apple Pal App Store or Google Play Store, depending on your smartphone OS.
Download any Chromecast-compatible apps to your phone. 
You cannot install or add any Android apps on Vizio Smartcast TV. However, you can use the already built-in Chromecast to cast video content from an Android smartphone or iOS Pal iOS device (AirPlay support).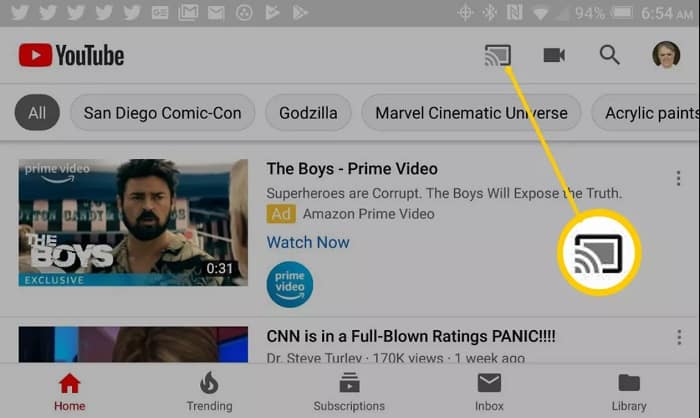 Open up the Google Play Store application on the Android device you use. (iPhone / iPad – Apple Pal Store). Download any of the Chromecast-compatible apps on your smartphone. Open the application and click the cast icon.
The last and final step is to select your particular Vizio Smartcast TV, and then the media will appear on the Television screen. 
Add Applications To Vizio Smart TV With Internet apps
If your Visio Smart TV includes VIA or VIA +, you have the Android-based Google Play Store app to download and install new apps. Just follow the steps to know how to add apps to Vizio smart tv using internet apps.
Let's start by pressing the V button available on your remote. Navigate to the application you want to download. Use categories to find your desired app easily.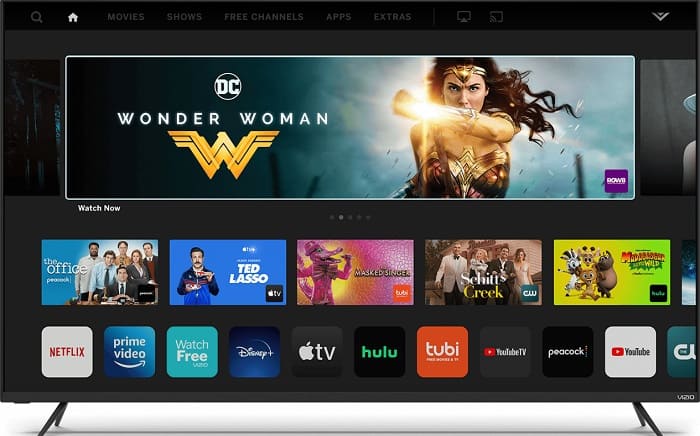 Now, select the OK button on your remote to download the application. Once installed, go to the My Apps section and access the downloaded application.
How Do You Update Applications On Vizio Smart TV?
The only way to update a Vizio Smart Television application is by uninstalling or removing the app from your Smart TV and then reinstalling it again from the App Store for a successful run and play of the Smart TV.
Turn on your TV and press the V or VIA button on your Vizio Smart TV remote. Navigate to the application you want to update.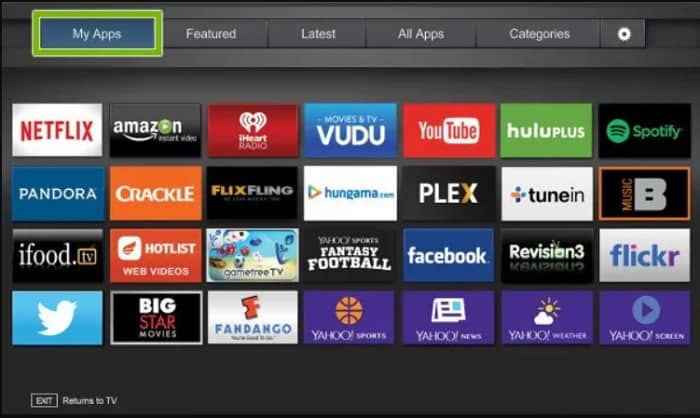 Press the yellow button present on your remote. Update the menu; click it to update the application. Or click Delete Application and follow the on-screen prompts to remove the application from your TV. Open the App Store and navigate to the app you uninstalled. Select Install to download the latest version of the respective application. Install the app and launch it.
You should be able to play content on your TV. You can install any streaming service on your smartphone and use the SmartCast feature to watch content on your TV. Unfortunately, there is no option to install third-party apps on the latest models of Vizio Smart TV.
Add Apps To Vizio Smart TV Using Google Play Store
If you're looking at adding a spectrum app to a smart TV, this would be great. If you have a Vizio Smart TV under VIA or Vizio Internet Apps category TV, you should search the Google Play Store or any other compatible app store on your TV. Follow these steps.
Press the V button on your TV remote. Move to Google Play Store or any other connected app store. Search for any favorite apps you want to install
It does. You better go and install any compatible apps on your Vizio Smart TV without hackles.
Hence the same process will apply to Vizio VIA Plus TV.
FAQs
How do I add apps to my Vizio TV that are not listed?
To access third-party apps not available on your Smart TV, employ a USB flash drive. Begin by searching online for the appropriate APK file of the desired streaming app or game. Once located, save it onto a USB drive and subsequently transfer it to your smart TV. For easy access to USB APK files, consider installing ES File Explorer on your smart TV.
Is a Vizio TV an Android TV?
Vizio's Smart TVs utilize their proprietary operating system, which differs from widely recognized platforms like Android TV OS or Roku OS. Consequently, the likelihood of finding all desired apps within Vizio's Smart TV app store is somewhat diminished. While their in-house operating system offers specific features, the absence of popular alternatives might limit the app selection.
How do I cast apps on my Vizio TV?
To cast content from your Android device to a Vizio TV, utilize the Vizio Mobile App (previously known as Vizio SmartCast App). Open the Vizio Mobile App on your Android smartphone and access the toolbar. Select your Vizio TV from the available list and initiate the casting process by tapping the Cast option.
Does Vizio have an app store?
Accessing the VIZIO Internet Apps platform is simple: press the VIA button on your remote control to reveal your apps along the screen's bottom. Navigate to the Connected TV Store in the dock located at the screen's lower section. Within the store, you can select from options like All Apps, Latest, Featured, or Categories to find the specific app you want to add.
Conclusion
In conclusion, we hope you now know how to add apps to Vizio smart tv. For more awesome content, keep following us. You can reset your Vizio TV without a remote control if it is not functioning properly. How? – Click here.
Carly Earl, Guardian Australia's pic editor, was a photographer and pic editor in Sydney for 8 yrs. She worked for The Daily Telegraph and Sunday Telegraph.