Are you unable to find time to go to your piano classes because of your busy schedule? You're so eager to learn but feel it's just not happening? Well, worry no more. You can now access your piano lessons at just your fingertips through piano learning software for pc.
All you have to do is to download the piano software, grab your piano, and start practicing. That's it! It is hassle-free and easily accessible at any time of the day.
Just hit the laptop, and you're ready to become the next Beethoven. Using math game apps, you can also level up your math skills, like piano skills.
The 6 Recommended Piano Learning Software for PC [2023]
Over the years, technology has evolved to a great extent. It has dived into every field possible, and not to forget music too. You can now play your favorite songs by looking up the tutorials online. Piano learning software for pc is one of the most innovative ways to make a rookie learn or enhance the skills of an advanced-level pianist.
This piano learning software is very interactive and keeps you hooked, which is very important while learning any new skill. They provide the perfect interface and fitting lessons for your basics. You can also learn about drum software here.
So, we here will cover some of the best piano learning software, and you can choose the ones that best fit your choice. So let's get started!
Playground sessions
Playground Session happens to be one of the best piano learning software to start piano lessons. It is very interactive and fun, which keeps you hooked throughout. You must subscribe to access the tutorials as they are subscription-based, and you will never be let down by what they offer.
Many personalized features add more fun to your learning, like you get rewards for every right note you play, and you get instantly notified for every wrong one.
You can also practice at your own pace by adjusting the speed to slow or fast. There is an entire library of songs, video lessons, and forums to raise your queries. There are different levels, from rookie to advanced. You are going to have the most fun and engaging classes with this.
See Also: How To Prepare A Computer For Disposal [Complete Guide]
Visit: Playground Sessions 
Piano Marvel
This PC piano learning software for pc is most suitable for learning classical music. It is again subscription-based and has various features, making it on the top list of the best software.
You can set goals, track your progress using the progress tracker, and earn trophies. Trophies are always exciting. You get gold if you've performed exceptionally or bronze for moderately good performance.
You get a printable book and a library of songs for free, chiefly classical ones. Besides, you can play any music in slices and perform the entire piece at the end. So, if you're fascinated by learning classical piano, this is the best.
Visit: Piano Marvel 
See Also: 11 Best PC Optimizer Software for Windows
Piano with Willie
The piano lessons are from Willie Myette, a versatile pianist from Berklee College of Music. You can choose either of the two types of memberships: studio and premium.
The premium membership lets you download sheet music and have face-to-face video lessons on Skype. There is a whole variety of genres that you can learn from and numerous studies that help in leveling up your skill.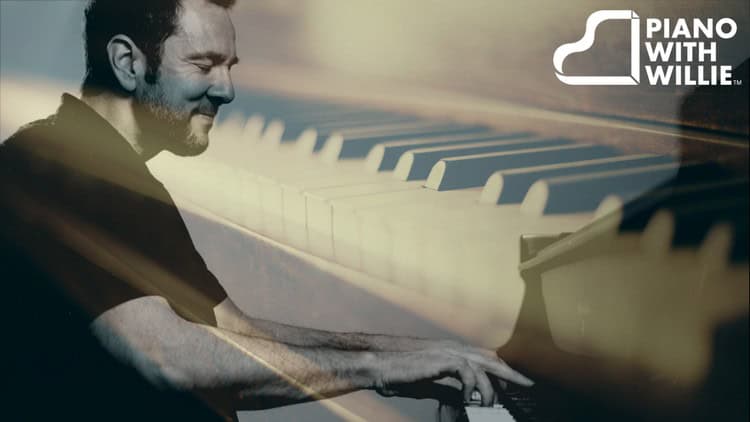 The right notes are displayed in green, and the wrong notes in red. Also, you can even ask queries to students and teachers. You discover an ocean of innovative things here with Willie and be as perfect as Willie.
Visit: Piano with Willie
Flowkey
This piano learning software for pc is one of the easiest to install and learn. You can access this for free for a few lessons, but you must subscribe to it to access the entire thing.
The lessons are very structured right from the fundamentals. The classes keep advancing as you progress, and it also keeps track of all your activities. It is best for beginners.
There are songs from film and TV, classical and video game music in the list. You can learn your favorite song by browsing through the list and at a fast or slow pace.
There is also an app that you can download to your phone or tab and start your lessons. Flowkey is most suitable for those who are beginners.
Visit: Flowkey 
See Also: 13+1 Best iOS Emulators for Windows With Pros & Cons
Pianoforall
Piano for All offers video tutorials for every lesson, making it easy to understand and use. The classes are to-the-point and straightforward and help any beginner to understand the basics and move on to the intermediate level. It focuses on all genres, so you can choose the ones you like and start practicing.
You can move to the following levels with a basic piano and become a pro. It is best suitable for beginners, and the interface is user-friendly, while the lessons are challenging and fun at the same time. If you want to get your basics right, opt for this piano learning software.
Visit: Pianoforall 
PianoKeyz
Numerous lessons in this piano learning software for pc will help you improve and grow as you progress. It ensures you understand the concepts by asking questions at the end of each lesson. You can start from any level if you already know the basics. There are no video lessons where the tutors are present, so you can learn at your own pace.
You can also learn to play popular songs easily. The lessons are well-structured, and anyone can start learning from an intermediate or advanced level. You need to subscribe to access all the classes. However, there is a free trial for a month. Overall, the content is crisp; you will love learning from here.
FAQ
Can you learn the piano on the computer?
Pianu may be a terrific software for learning the piano. Still, I'd recommend it only if you have a musical keyboard to connect to your computer. If you don't, Pianu could still be an entertaining app to try. Still, I don't think the skills learned will translate effectively from a computer keyboard to a real piano keyboard.
Is there any piano app for PC?
MidiPiano is a small program that converts your keyboard into a piano. Midi music can be played and recorded.
Is Flowkey completely free?
You can get free access to selected music and course content by downloading the flowkey app. You must purchase a flowkey Premium subscription to access all themes and course content. Flowkey Premium content is available on all of your devices.
Final Words 
This piano learning software for pc is beneficial in terms of its convenience. However, you should stay focused, determined, persistent, and have a lot of zeal to master the skill.
Technology has made everything so easy, but it is up to us to rightly utilize and make the best use of it, to enhance our knowledge and skills. One can master the language of the piano with this abundance of online software and tutorials.
See Also: 10+1 Best PC Cleaner Software to Boost Your System.
Dedicated group of Computer Engineers making tech updates accessible to all. Our dream is to simplify and share tech news with everyone.