Spotlight is a feature of Apple's MacroOS and IOS operating systems that extends throughout the system. It is the phone's search feature/ engine, which we use to find specific things on the web or your phone itself. In this article, you will learn how to clear Spotlight Search History on your iPhone. Click here to learn about the best iPhone projector apps Of 2023.
To clear Spotlight search history on an iPhone, go to "Settings," tap on "Siri & Search," then scroll down and select "Clear Spotlight Search." Confirm your action by tapping "Clear History." This will remove all previous searches from the Spotlight search history on your iPhone.
If you want an industrial look on your home screen, download this Transparent Google Search Bar Widget.
Spotlight
To access or use this feature, we need to be on the phone's home screen and flick down from the center of the screen. And then, this feature will be open at the top of the screen. Once this is open, you can search for whatever interests you. You can search for whatever you would like to use this feature. This feature is not limited to words only, so you can even search for numbers if you want to.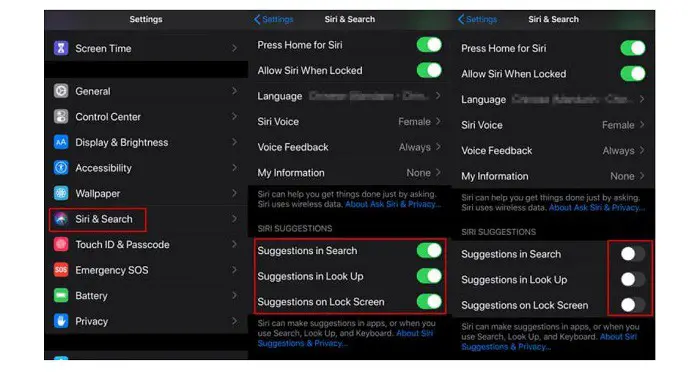 For example: If you have searched the word "Colbie," we receive a list showing the words associated with our search. This would include any contacts if existing with the name "Colbie," songs by Colbie Caillat, any song name with the title having the word Colbie, any e-mails that have been previously exchanged with anyone named Colbie, appointments with Colbie, or even Colbie's birthday.
So basically, what we will receive using this feature depends on what is pre-existing on your phone and web results for the search. This spotlight feature is embedded within many apps and is at the top of the app's screen. If you can see a magnifying glass icon on the app anytime, tap it to open Spotlight. Now, let us know how to clear Spotlight Search history on iPhone.
What's The Need To Delete Spotlight's Search History?
As seen above, we use Spotlight to search for a specific word or phrase or even an application. Whatever we type in the search bar gets displayed whenever we use it.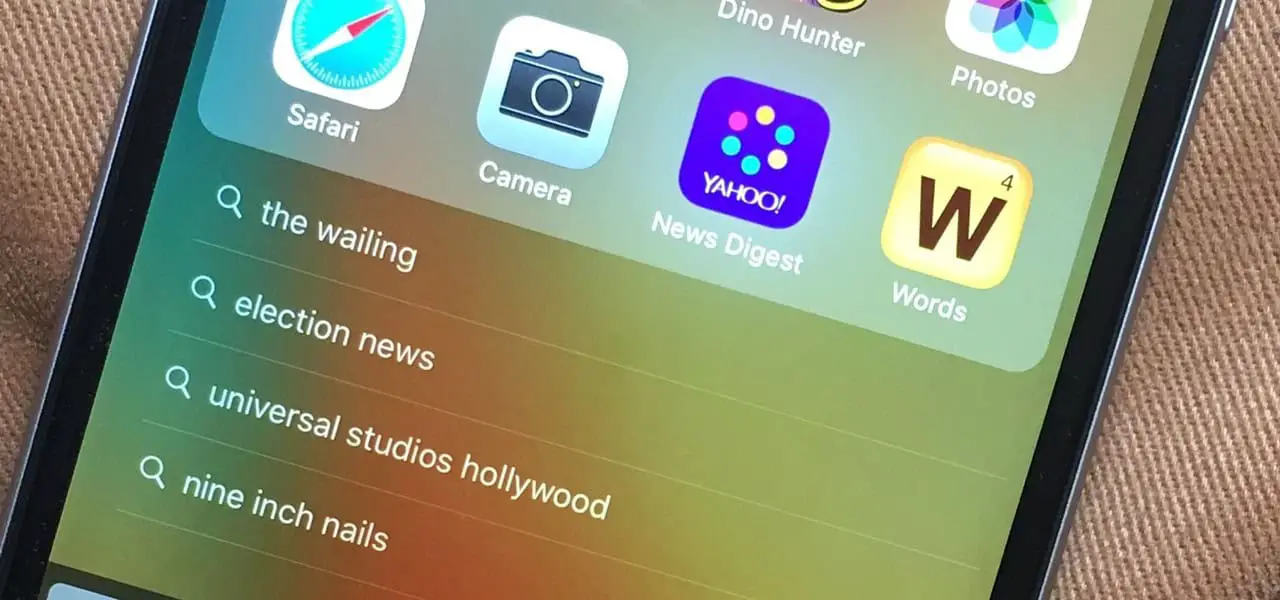 So at times, we could search for something that we may not want others to see or mistakenly type something that we didn't intend to order, and it also could be because we don't want the history to be visible every time we use this IOS feature. So in these cases, we would like to erase or clear the search history stored on the app and make it visible to anyone using it.
See also: How to Delete All The Photos on Instagram at Once
How To Clear Spotlight Search History On iPhone
There are three ways by which we could clear the search history or disable it from others to view the past when using your device. All these work well, but the main issue is that it is not entirely erased from the device and could be tracked/accessed using some external apps or websites.
[1]
Disabling Siri search suggestions
Firstly we need to go to Settings of the device. You'll find it on the Home screen. Or from the App library, accessed by swiping left past all the home screen pages.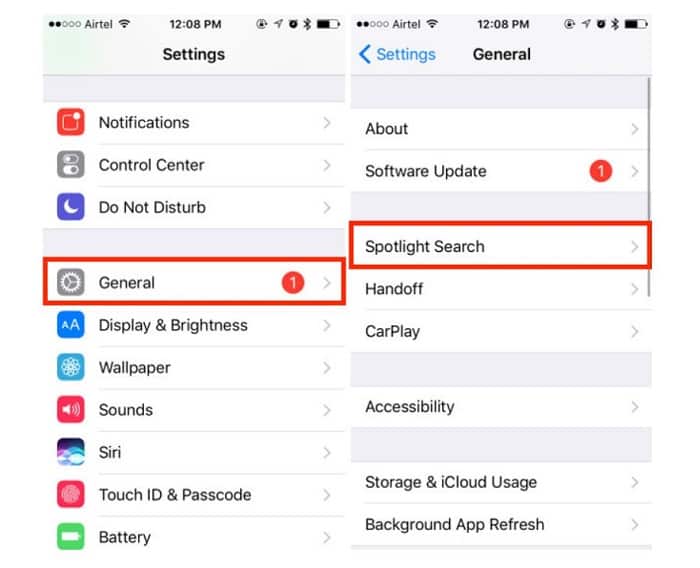 Then click on the General option. You will find the Spotlight search option. And on connecting that, you need to turn the toggle off the Siri suggestions, and once this is done, you will see that the search history is not visible anymore.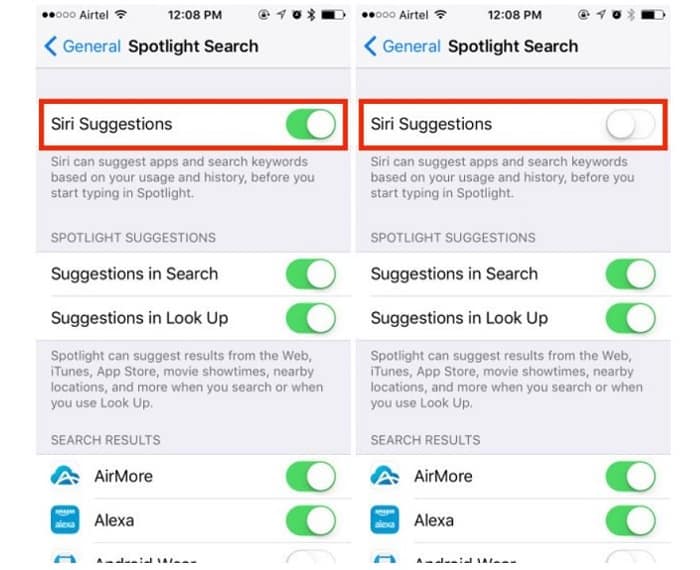 This would temporarily turn off the search feature. And if you want to use it again, we will toggle it back.
 In short : Settings -> General ->Spotlight search -> Siri Suggestions(Toggle off) 
Follow these steps to resolve your How to clear spotlight search history on iPhone.
See also: How To Download All Photos From Facebook? [2023]
Turning off Siri Suggestions :
Like the first step, we would first have to go to Settings, then click on Siri & Search, then a list of options will be displayed, and under the heading of "Siri Suggestions," we need to toggle off the Suggestion in the search option. 
 In short : Settings -> Siri & Search ->Suggestion in search(Toggle off)
Deletion of Siri history :
Similar to the first step, we need to go to Settings, then click on Siri & Search, and then need to locate the option of "Siri & Dictation history," and then need to delete it. When we click on the option, a popup will appear asking for confirmation whether we want to delete the history. Click to confirm, and the device will delete the history.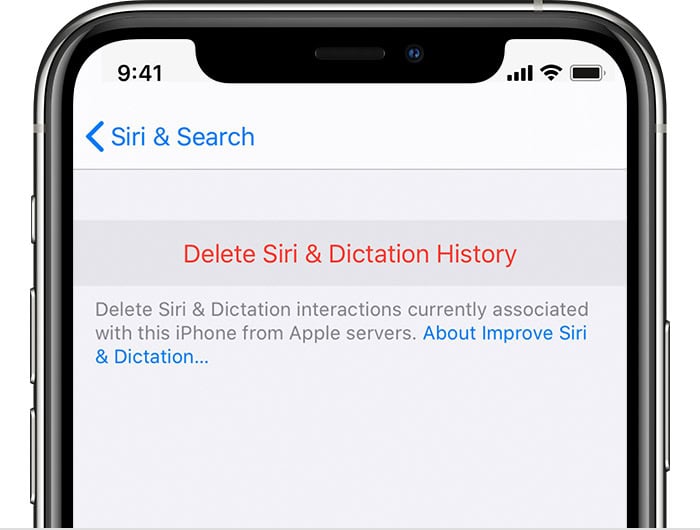 In short : Settings -> Siri & Search -> Siri & Dictation history (Delete)
Follow these steps to resolve your How to clear spotlight search history on iPhone.
To delete the history permanently and for there to be no possible way to recover the history, we would need to reset the phone (Full reset). This is a tedious method as it would take up much of your time, and you would lose all your information/data if not backed up.
We must install an external application like CleanUp App – Phone Cleaner on the App Store to help you sort out the problem.
Steps 
1. Download & launch the application
: First, we need to download the application on your computer/laptop, install it, and find it.
2. Connect to the device 
Connect to the device using the USB cable and input your specific password to unlock your device. And select the "Trust" button on your iPhone.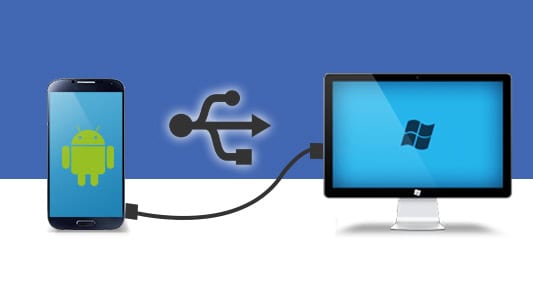 Once connected, you must scan the device to see the search history.
3. Delete the history
After the scan, the application will show the options to clear up your device.
Then choose the "Erase Junk Files" option and click the "Erase" button to complete the task.
Follow these steps to resolve your How to clear spotlight search history on iPhone.
See also: Top 5 Websites to Download Free Ringtones for iPhone
FAQ's
What does iPhone Spotlight do?
The Spotlight feature of Apple's macOS and iOS operating systems allows users to look up specific information on their device or online. If you swipe down from the home screen, it will show up.
Why would I want to delete the history of my Spotlight searches?
Can the deleted Spotlight search history be returned?
Restoring the deleted Spotlight search history using the iPhone's default settings is challenging.
How do I completely reset my iPhone to remove the search history for good?
Is it possible to delete Spotlight search history using a third-party program?
Yes, there are third-party programs available that can assist in erasing the Spotlight search history on your iPhone, such as Aiseesoft iPhone Cleaner. For managing the data on your device, these programs offer additional options and functionalities.
Conclusion 
There may be many reasons why we need to erase the device's history. And to do so, we explain and mention these four methods. Ideally, using one of the first three options would be better as it is less tedious and takes less time. And also, there is no loss of your data,
Using the last option by resetting the system would take a lot of time and is unnecessary as its functionality is the same as the first three options. Hence we suggest you use one of the more straightforward methods.
I hope this article on how to clear spotlight search history on iPhone will help our readers.
See also: How To Use Twitch Emotes On Discord? [Complete Guide]
Lead Photographer, Lead Advice Editor for @CNET in Europe. Love: the outdoors, music, food, snowboarding, animals, beer, coffee, lists. Personal views.