The dilemma between users concerning the choice of Apple TV vs Chromecast with Google TV is neverending. The Apple 4K and the Chromecast with Google TV are among the most common streaming devices available. While some excellent alternatives, including the 4K-upscaling Nvidia TV Shield Pro, is available, Apple TV and Google Chromecast are your two best choices for the widest selection of streaming apps.
The best streaming solution for Android and iOS users is the Chromecast with Google TV, but if you're firmly rooted in the Apple ecosystem, the Apple TV 4K is a special set-top box.
Compare the Chromecast with Google TV vs Apple TV 4K to find which performs better. We have the following guide to compare both options based on their performance, speed, and price. Before deciding the winner of Google Chromecast vs Apple TV, let us look individually at Chromecast and Apple TV to learn more about what they offer.
Chromecast with Google TV
As long as the app has a "cast" option, streaming services can be cast from iPhone and Android smartphones. By selecting the "cast" button on your Chrome browser window from a Mac or PC, you may send any material in the world to your TV.
While using some apps, like YouTube, casting is my preferred method of viewing instead of using the app on Chromecast.
The casting art's beauty? Casting lets you use your phone for other tasks without interfering with the stream. Use the cast button after using the app on your phone. You don't need to configure or sign into any apps on the streaming device. Casting doesn't reduce your phone's battery life because the content is broadcast straight to the Chromecast. 
Apple TV
Users of Mac and iPhone devices can use AirPlay to mirror their entire screen or stream content from specific apps that contain the AirPlay icon (pointy triangle). Unfortunately, there is no simple way for PC and Android users to mirror Apple TV. Click here to know about some of the best Apple TV remote apps.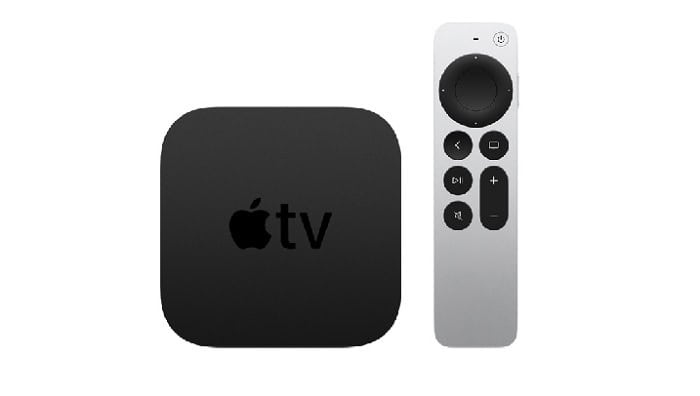 Although AirPlay works well, it depends on your phone's battery and cannot run independently.
See This: How To Share Apple TV Plus With Family? Easy Guide!
Apple TV vs Chromecast with Google TV: A Comparison
Let us take a look at the different parameters that set the two services apart from each other.
Performance
The first parameter based on which you can compare Apple TV to Chromecast is performance. You'll get amazing performance from Netflix, Hulu, YouTube, Disney+, and more devices. Your options are also more than before because the Apple TV+ app is available via Chromecast on Google TV.
Chromecast and AirPlay don't combine nicely. But, AirPlay, which is only compatible with Apple devices, is less common than Chromecast compatibility. Although Apple TV+ video can be viewed on Google TV, neither Apple TV+ nor any other content you have purchased through iTunes can be cast using Chromecast. An iPhone can cast to an Apple TV 4K, but an Android device cannot.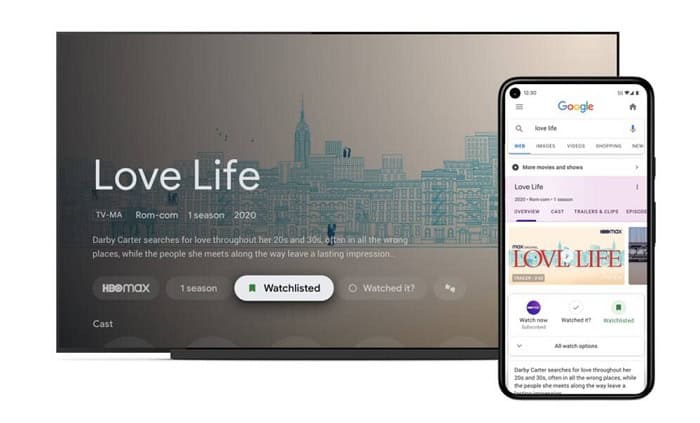 This peculiar restriction is a relic from Apple's ecosystem. And it's a huge drag because so many other businesses have solved problems like this. Apple TV 4K Spatial Audio offers a bonus for some potential customers.
If you bought AirPods Max or the improved AirPods Pro from Apple, you could use the amazing Spatial Audio feature on Apple TV 4K. Fundamentally, spatial audio is a greatly enhanced version of seamless 360-degree technology.
With one key exception, Apple's Spatial Audio technology fixes the sound positioning and creates an in-ear surround experience. Even when you bend your head, the voices on Apple AirPod headphones still appear flowing from the television.
It is unquestionably worthwhile to attempt this sound design, which may immerse you in whatever TV show or movie you're watching. For some people, the cost may also be justified. It's also crucial to remember that the Apple TV 4K offers 32GB or 64GB of internal storage, depending on your chosen model version.
For individuals with unpredictable internet connections, you can download TV shows, movies, and music to your device. 
However, this category is close, but in the context of Apple TV vs Chromecast with Google TV, Google TV marginally edges out Apple TV 4K because some of its best features aren't necessary and are expensive.
See Also: Best Podcast Downloader Tools | 8 Latest Free & Paid Apps
Price
Here is when things become complicated, and Google gains headway on Apple. Price is another parameter that can be considered to highlight the difference between Apple TV and Chromecast.
The only way to access Apple TV is through an Apple TV device, such as the HD and 4K variants now available at your neighborhood electronics retailer. Additionally, Chromecast devices—several with various price points and features—are the only ones supporting Google TV.
Speaking of cost, it won't surprise you that using Apple TV will cost you a lot more money. You must first purchase an Apple TV device for at least $175. Spending $30 more will also get you the 4K Apple TV, which is the best Apple TV model.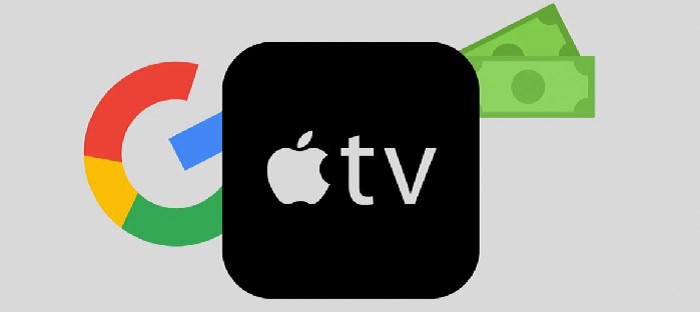 You will be able to utilize Google TV for a lot less money. You can launch Google TV on any Google streaming device, and they all function excellently. That implies you can quickly stream on Google TV for less than $40.
Of course, you can spend more money and purchase a more remarkable Google product, but even their less expensive offerings are worthwhile and excellent in their own right.
Conclusion: The best option in this tussle between Apple TV vs Google Chromecast is Google TV. 
See this: What Does The Blue Dot On Apple Tv Mean? Get To Know
Speed
You will undoubtedly get better speeds from the Apple smartphone, given the superior firepower that Apple products have within. Speed is the next important parameter to test the superiority between Apple TV vs Chromecast with Google TV.
This does not, however, imply that Google TV is inferior. Although Google TV has some drawbacks, such as the lag we previously discussed, it still performs admirably as long as you have a reliable internet connection.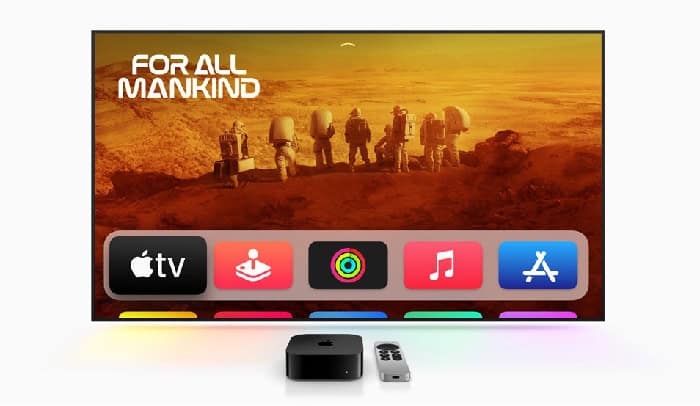 Google TV is generally quite speedy and works without much latency, despite the occasional hiccup. Although Apple TV will move more quickly, given its high price tag, it is understandable why most consumers are prepared to give up some speed.
Conclusion: Both Google TV and Apple TV offer quick service, with Apple TV aiming to outperform Google TV in terms of literal performance. Nonetheless, considering how little the differences are and how much more Google TV costs, it is the superior option. 
Thus, both are strong contenders with their respective share of pros and cons in the clash of wits between Apple TV vs. Chromecast with Google TV. 
FAQs
Which is better, Apple TV or Smart TV?
If you already love the Apple ecosystem, Apple TV is a wonderful choice because it lets you sync your other Apple devices. One can consider a Smart TV if one possesses a smartphone.
Are there any added features of Apple TV?
Apart from the basic features each television offers, Apple TV adds more fun elements such as Apple Fitness+, Arcade, Music, Photos, and much more.
Is there any additional fee with Google TV?
There is no additional expense because Google TV is the smart TV experience already included in some TVs or streaming devices.
How different is Google TV from Apple TV?
Compared to Apple TV, Google TV offers a wider range of options when using mobile devices as remotes. Whereas Apple TVs have a clicker, Google TVs include a QWERTY keyboard on the remote control. Google TV has a wider range of internet browsing options than Apple TV.
Conclusion
Both Google TV and Apple TV are excellent choices. There is no doubt that both have a lot to offer users in this tussle between Apple TV vs. Chromecast and Google TV. You may utilize one of these two programs to watch the majority of the TV content you like.

Although Apple TV is a little more well-rounded and unquestionably speedier, there is little difference between the two. Google TV offers a lot, looks beautiful, and generally functions well, but there is room for improvement.
Nonetheless, the price difference is significant when considering Apple TV vs. Chromecast with Google TV; therefore, Google TV is the better option. By purchasing an even more affordable Chromecast variant, you can begin using it. And once it's up and running, you'll discover its limitations are mostly minor.
See Also: Streaming Showbox To Chromecast? Watch Movies On TV | 2023
Dedicated group of Computer Engineers making tech updates accessible to all. Our dream is to simplify and share tech news with everyone.