Discord is a group-chatting platform initially built for gamers. Now it became a general use platform for many kinds of communities. It is a fantastic app to connect with people and grow your network of people sharing similar interests and hobbies. It also allows users to voice and video chat and live stream games and other programs from their computers. Discord is divided into servers, each of which has its members, topics, rules, and channels. This article is to describes how to transfer ownership on the discord server to another user.
Go to your server and select the server name box.
Click on the 'Server Settings' option.
Find the 'Members' tab and select it.
Click on the avatar of the person whom you want to transfer your ownership.
Select the menu option beside their name and click on 'Transfer Ownership'.
Also, check this article out on how to self-assign roles in Discord.
Why Transfer Ownership Of A Discord Server?
In general, there can be several reasons why someone might want to know how to transfer ownership on discord to another Discord user. The most common cause is to ensure that the server continues to grow. Servers can sometimes have hundreds or even thousands of members, making it challenging to maintain such a vast community.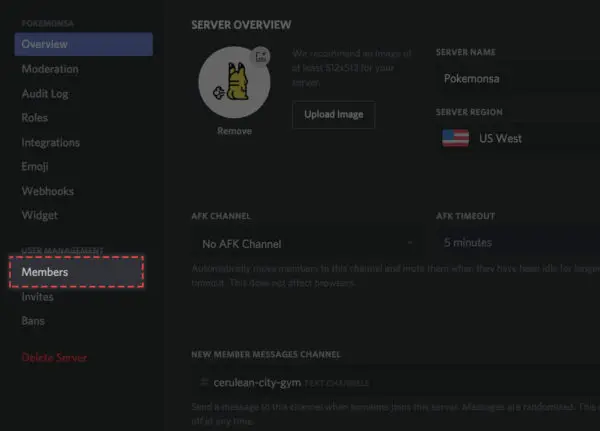 If a user creates a server and becomes more popular than they expected it to be, then it makes sense to transfer the ownership to another user who has time to handle it. Or, if you want a friend to look after your server while you're out, you can transfer the ownership to your friend. 
See also: How To Use Twitch Emotes On Discord? [Complete Guide]
Can You Take Back A Server On Discord?
Once you transfer the ownership to another member, you'll lose complete control of your server, even if you're the one who created it before. This need not be a permanent change. If the user has ample time to manage the server and wants to work the server later, he can ask the new owner to transfer it again.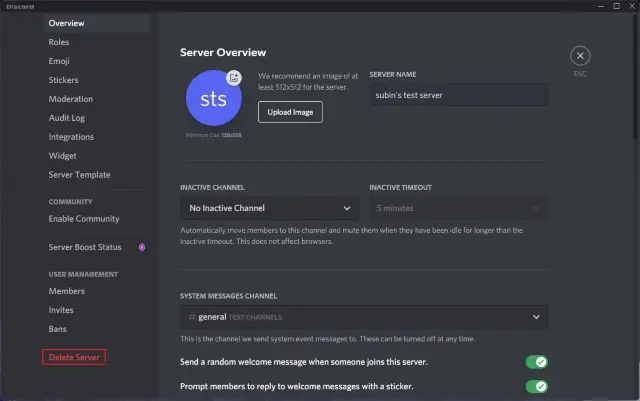 This is the only way to get your server back. Changing the ownership won't remove the original owner from the server. Instead, their role will return to a standard member, allowing them to continue enjoying the same communities and content without the added responsibilities that come with owning a Discord server.
Just remember that you can only get the server back if the person willingly gives the position back to you. To know about the 5 best voice changer for Discord tools, click here. 
Simple Steps To Transfer The Ownership Of Discord Server 
Let's see how to transfer ownership on discord to another user
At first login to the current owner's account.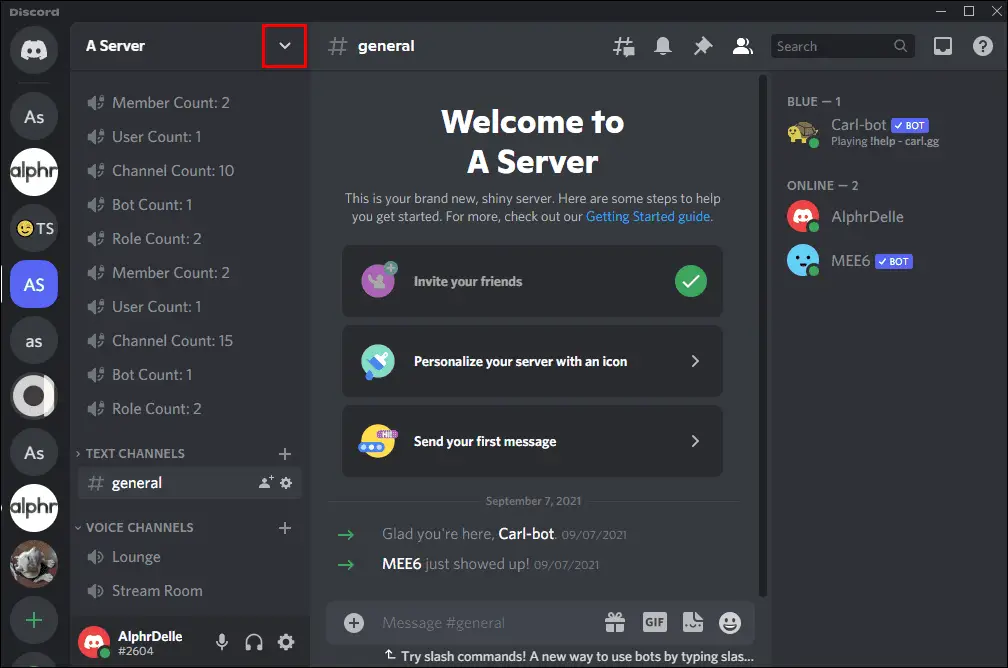 On the left panel of your discord application, under the 'User management category,' choose the 'Members' option.

Afterward, select the user to whom the ownership is transferred by hovering over their username and then clicking on the three-dot button beside their name.

Finally, A dialog box pops up, confirm the transfer of ownership. Click on the Transfer Ownership button to complete the transfer to the designated Discord user.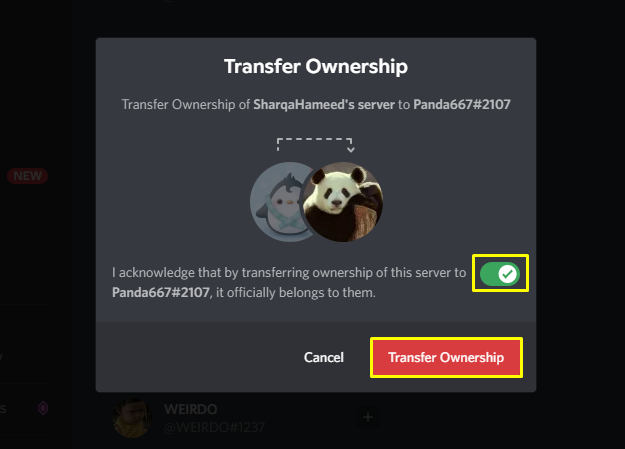 In just a few seconds, you will transfer ownership of the server.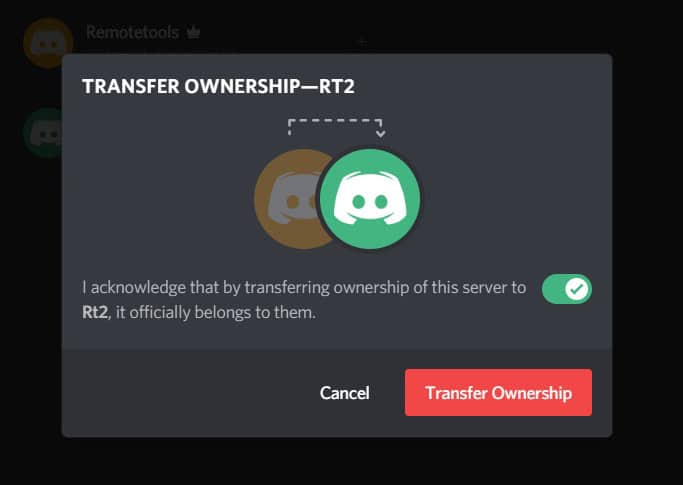 After that, a crown will appear next to the new owner's name in the Discord members list.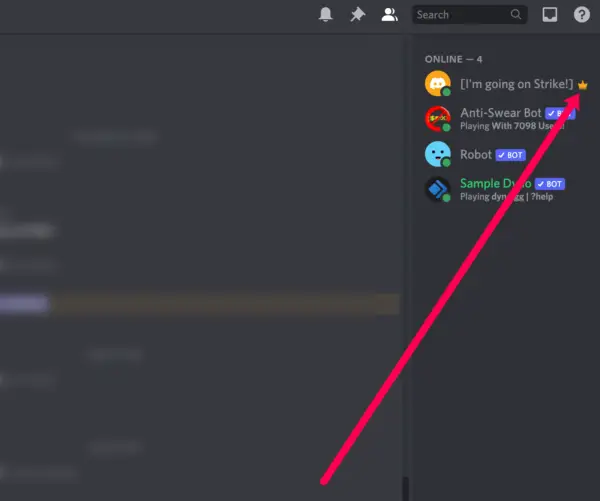 After completing the transfer, you will still be a member of the server. The access you retain will depend on the permissions tied to your role.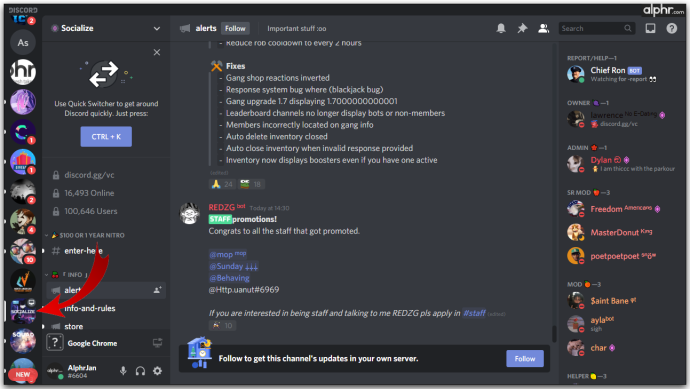 See Also: 4 Ways To Fix Discord Won't Open Error
Transfer Ownership Through The Discord Team
Follow these steps to know how to transfer ownership on discord through the discord team.
The user can also submit a request to the discord team to transfer the ownership. There are few conditions to send this request. 
The server must have at least 100 users.
You should be an admin for the server.
If the two conditions are satisfied, the user can proceed to send the request. Know about the 10 best Discord bots to use from this article. 
How To Submit A Request To The Discord Team?
Open the request form.

Click on the drop-down menu and select 'Server ownership transfer request.'

Enter your email address, a subject line, and your message.

After filling the form, click submit.

If you face any difficulty in transferring ownership, you can use discord support in this manner.
FAQs
Why can't I transfer ownership on Discord?
Transferring ownership on Discord is only possible if you hold the position of the server owner. Only four owners can own Discord at a time, and the ownerless server will get deleted automatically.
How do I transfer ownership of a Discord server without code?
To transfer Discord server ownership to someone, try these steps: Sign in to your account and open Settings in the Discord app. Click on the username you want to transfer ownership, then tap on the three dots. A sub-menu will appear, and from there, choose Transfer ownership.
How do I transfer ownership of a Discord group chat on my phone?
To transfer ownership of a Discord group chat on your phone, open the server settings, tap 'Members,' find the person you want to make the new owner, long-press their name, and select 'Transfer Ownership.'
Can there be two owners in Discord?
No, Discord allows only one owner per server or group. Owners have the highest level of control and can only partially be duplicated. However, you can assign co-owners with different permissions to help manage the server effectively.
Conclusion
Finally, these are how to transfer the ownership on discord server through Discord server settings and Discord form. This post will explain the reasons why to transfer discord ownership. If you are a Discord owner and ever feel that you can't be regular on Discord or can get banned, please transfer your ownership as soon as possible.
Freelancer Michael Franco writes about the serious and silly sides of science and technology for CNET and other pixel and paper pubs.