GTA 5 is among the most popular and best-selling video games. It has been there on millions of people's lists of games since 2013. The best part about this game is that it has an online version. You can create your own story with characters you like.
Modding is not supported on the PS4 version of GTA 5, making it impossible to install mods on the console. Modding is primarily available for the PC version of the game, but it's crucial to exercise caution and utilize trustworthy sources when downloading mods to prevent any potential harm to your game or computer.
Please note that when you make a modded account, you should make it on your offline GTA 5 instead of online. If you do that online, you might get caught and get a red flag, or they can even blacklist you. So, it's better to avoid taking any risks, and you can enjoy the liberties you get in a modded account game. Let's learn about the steps to make a modded account on GTA 5.
See Also: 5 Best Free & Paid Game Optimizer Software For Windows
Steps to Make a Modded Account on GTA 5
Let us finally go through the steps on how to make a modded account on GTA 5.
First, you must create some backup of your 

GTA game on your PC. Now, go to GTA 5 mods website and download the files to their latest version: Script Hook V, ScriptHookVDotNet, Menyoo Mod, and Open IV.


To use the cars and other stuff, you need to download the file for them.
Go to the ScriptHookV folder and open the bin folder.
Now open script hook v.net, and from that folder, drag and drop the .asi and .dll files to the backup folder
Now go to the Menyoo folder and drop the menyooStuff and .asi files in the backup folder
You have now set up a modded account on your offline GTA 5.
How to Insall Open IV?
Open IV is the software you need to install to use the files you will download to access different stuff.
After completing the steps on how to make a modded account on GTA 5, open the IV folder.

You need to follow the prompts so that you can install Open IV software.

Open the installed Open IV from the desktop screen.



You will see a message in green if it is successfully set up.

Click on the Continue button, and a window will open up with all the files.
After you have installed them, select Edit Mode on the top right of the screen, and click the Ok button on the screen prompt.
To download the cars and other stuff, you need to open the downloaded files for the respective items. Open the readme file, and it has all the further instructions that you need to follow.
Features Provided in Modded Accounts
Modded accounts provide various features that attract players. The one way, as we have discussed, is to make a modded account. The other way is that you can buy modded accounts or go for the services that provide you with modded accounts. Also, check out this article on MTU settings which can help to speed up your game.
You should take a look at the features before setting up your modded account or buying one.
Money:

You can ask for any amount of money you want in the game. That's the main purpose why people look for modded accounts. To get money without going through the levels that the game has according to the rules.

Unlock Stuff:

Stuff here is referred to the cars or weapons that you would need in the game. Unlock the expensive cars and weapons to survive and thrive in the game.

High RP Ranks:

So, to go to the high ranks, you need to play and cross different levels, and that takes time. With a Modded account, you can see your name against the rank 2000 and don't have to go through all those battles.

Unlock Missions:

In the modded account, you get to choose your mission. That means you can unlock any mission and play with freedom. You don't need to follow the mission sequence anymore.
See Also: Share Files Between Mac And Windows 10
Self-Modded VS Premade Modded Account
You must now be aware of the available modded accounts through the service provider. Wondering which one to go for? Let us talk about both kinds of modded accounts in detail.
Self-Modded Account
We have already understood how to make a modded account on GTA 5. And we also know that you should be using your modded account offline. This way, it will be nearly impossible to track your modded account, and your account won't get banned.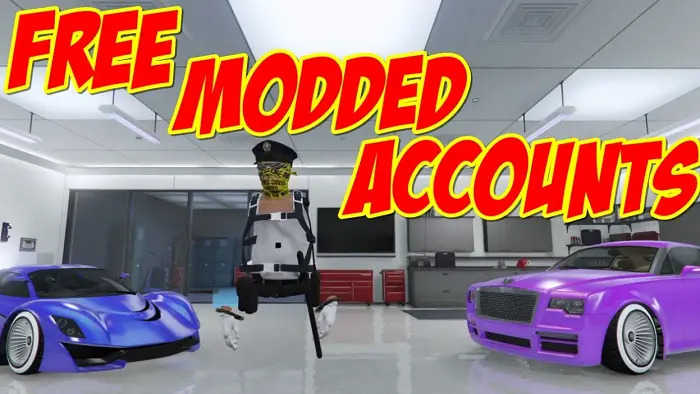 However, you cannot mod your account if your account is banned already or you don't have a copy of GTA V.
In your self-modded account, you can get to unlock weapons, cars, and more stuff. You can choose any of the missions available that you want. Features are quite similar to any of the modded accounts on GTA 5.
Premade Modded Account
In the case of a banned account or you are unable to mod it, you always have the option to use a premade GTA 5 modded account. Here, the service provider like GTABoosting will also give options like choosing what you need to play GTA 5.
In premade modded account, you get everything unlocked already. And on the basis of your choice, the game is all set. You just have to start playing and enjoying. Some service provider also provides you with account recovery if somehow the modded account you used got banned. The best part with premade modded accounts is that you get to play online without worrying about the restrictions.
Is Modding a GTA Account Legal?
No, modding a GTA account is illegal. It violates the copyright of the owner of the GTA game.
Rockstar has been focusing on the aspects where it should be free of hacking attacks and modding online to release Grand Theft Auto V for PC. 
Can GTA V be Mod on PS4? 
So, you can mod GTA V on PS4, but that will not be official. It is not yet allowed by Rockstar Games to use mods on PS4. Also, it hasn't been the intention to feature this in the console version of the game.
So, if you opt for modding GTA V on PS4, you are doing it unofficially, and you should be careful with that.
FAQ's
How can I create a GTA 5 modified account?
Make a backup of your GTA PC game first. Download the required files from the GTA 5 mods page, including Script Hook V, Menyoo Mod, and Open IV. Install Open IV, then choose the backup folder to finish configuring your modded account.
What features come with accounts that are modified?
Modded accounts unlock in-game missions, provide the ability to get infinite money, unlock vehicles and weapons, climb the RP ranks without completing all the levels, and offer more features.
What distinguishes a self-modified account from a ready-made modded one?
By following the instructions to construct a modded account on Grand Theft Auto 5, the user can create a self-modded account. Although it necessitates an offline version and a copy of GTA V, it permits customization and unlocks features. Conversely, a service provider already offers a preset modded account with all the unlocked features.
Is it possible to change a GTA account?
No, modifying a GTA account is not permitted because doing so infringes on Rockstar, the company that owns the game. Online modding may result in bans or other repercussions.
Conclusion
In this article, we talked about how to make a modded account on GTA 5 and more about modded accounts. Your dream of getting will longer be only a dream. Now follow the given steps, and you can have a modded account on GTA 5. If you can afford it, you can even buy modded accounts.
There are providers that include services like recovery, unbanned accounts, and more, depending on which you are purchasing. If you have never tried it before, we advise you to make a modded account on your PC for offline GTA 5. This way will tell the difference for yourself and make a choice if you want to switch to buying one.
See Also: What Is RNG In Gaming – All You Need To Know
Lead Photographer, Lead Advice Editor for @CNET in Europe. Love: the outdoors, music, food, snowboarding, animals, beer, coffee, lists. Personal views.