Busy schedules, introvert, socially awkward, anxiety, do these words sound familiar? Did you start recalling the past events associated with them and start feeling, the one who's always found in the corner of a happening party? Do you face difficulties in making new friends in college or perhaps talking to your office colleagues? Have you ever wished of being that person who can quickly initiate conversations with finesse? Well, there's a solution for you and many more like you! Yes! There are people like you who share the same problem! Now let's talk about the answer which is Stranger Chat Apps.
Speaking with a stranger with words, choosing whom to talk to, not having the trouble of seeing them the other day if you screw up and talking to a variety of people from all the corners of the world at the same time!  Dating apps are an excellent way for shy people to come across like-minded people and make new friends. Thinking how does all that happen while you keep your identity unrevealed unless you want to? The answer is just a click away. Stranger Chat Apps for Android and iOS! You can also find the best voice chat apps here.
Top 8 Stranger Chat Apps To Cure Your Boredom
Check out this list of 8 best-known stranger chat apps and choose the one that works the best for you!
MICO

 
It is a decent stranger chat app where you can find somebody to chat with. The app lets you have casual strangers one-to-ones from strangers all over the globe. You mainly go live and watch live streams. This is chiefly a stranger live video chat app where you can have video chats from people from every corner of the world. The app states to have handlers from approximately 100 countries.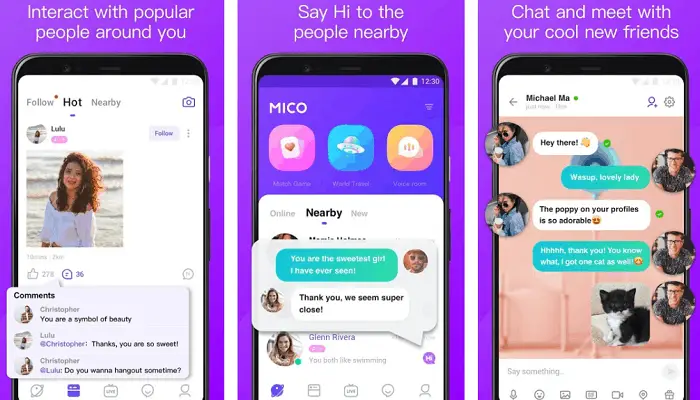 You must be filching left or right to match with strangers. You can have a voice chat or a video chat with more than one person if you wish. A maximum of 8 individuals can connect in group chats. When you are chatting with somebody by using a different language, the application will show real-time interpretation. How cool is that!
Visit: MICO
Make use of these transcription apps that convert your voice to text in Mac.
Azar

 
Azar is a stranger chat app where you encounter a casual personality online to exchange words on video calls/texts. You can hand-pick the area and gender of your wish to initiate the chat with a random individual.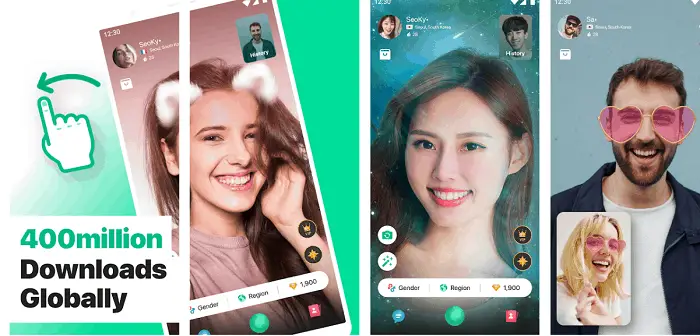 If you get to chat with someone speaking in a foreign language, the app converts chats as you talk. The app is entirely free and proposes protected video calls and text chats. Azar is a good option for a stranger chat app if you are okay with video calls on your first encounters!
Visit: Azar
See Also: 7 Best Photo Editing Apps for iPhone | Top Picks of 2020
LivU
Previously branded as Love, is also one of the decent enjoyable stranger chat apps that suggests a random video chat with strangers from all around the globe. You can have free random video calls or text chat with strangers. 
For a casual conversation, you will get to have choices to select nations and gender. You need to sign-up for the app with your Facebook or phone number. Besides, this app has filters and stickers to create funny faces and make your video calls more stimulating and fun!
Visit: LivU
See Also: Top 6 Free Voice Chat Software for Windows
Qeep

 
This is one of the most popular stranger chat apps for Android and iOS platforms. This app claims itself to be a dating app where you can come across a bachelor's in your proximity. It displays photographs of nearby folks, and you will have to make sure you swing your fingers from left to right from those snaps for a suitable match to chat. 
The app states itself to be 100% private and protected. It has a community of mediators who retain the Nudity away from the boards. If you want an excellent stranger chat app for dating, you can try Qeep for sure!
Visit: Qeep
Chat for Strangers by FunPokes
This is also a stranger chat app but then again offers an intimate video chat. You can bump into new persons, request questions, share mysteries, and relax. The app lets you screen people by age and gender. This explains why it is one of the best stranger chat apps available on the internet.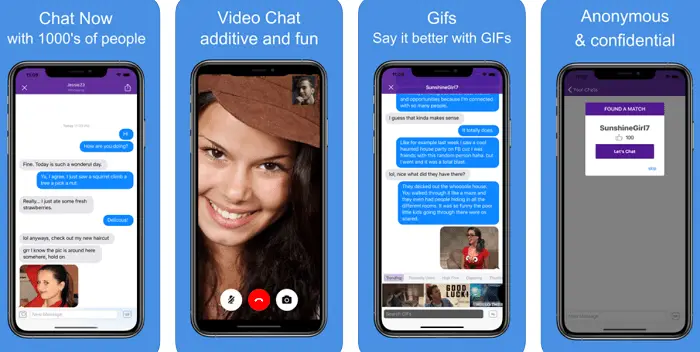 It also enables you to share videos. The screening by gender is a paid feature for exclusive customers. The app has a smooth and straightforward interface and also displays new texts.
Visit: Chat for Strangers by FunPokes
Splansh

 
It is an application where you can talk with strangers on a particular subject to kill your time. This is a 100% secretive chatting app that doesn't disclose your actual character. Nonetheless, it also lets you make a full profile, add pictures, and write about yourself like other stranger chat apps.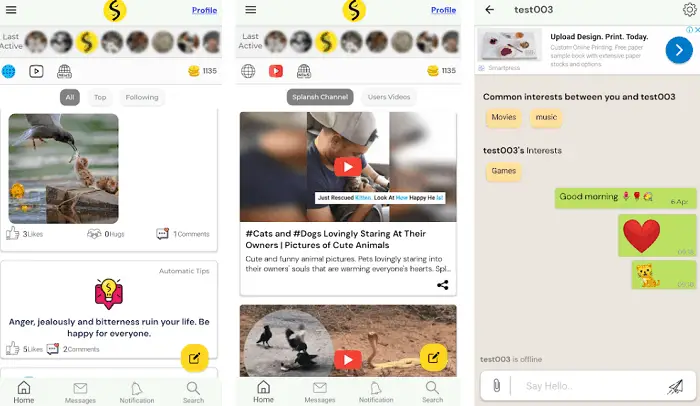 The app even blocks offensive words to stop sexual harassment and guarantees a safe experience. The app automatically erases old texts every day. It has an option to delete your profile as well.
Visit: Splansh
See Also : Top 7 Screen Sharing Apps for Android
Anonymous Chat Rooms

 
It is one of the most exciting stranger chat apps where you can share your personal life with whoever you want without unveiling your real identity. The app deeply censors inappropriate and offensive content.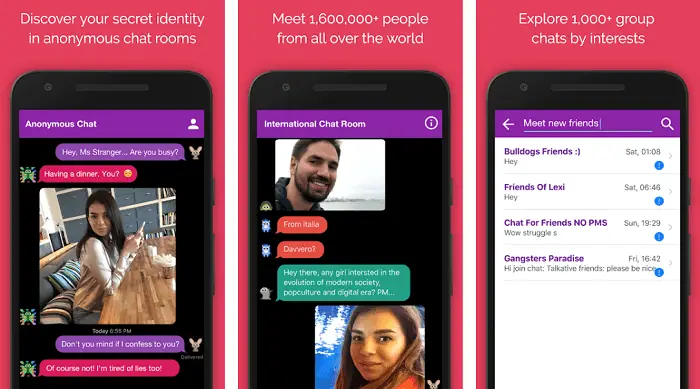 Texts are encoded and self-destructing. You get a code-name for entering into chat rooms. There are around 1000 group chat rooms with more than 32 different languages. 70+ expert mediators are always there to regulate the messages.
Visit: Anonymous Chat Rooms 
LOVOO 
It is one of the most popular stranger chat apps and has been around for six years. The app lets you discover random people to talk to. It enables you to screen for people nearby and then initiates a tête-à-tête using a unique icebreaker theme.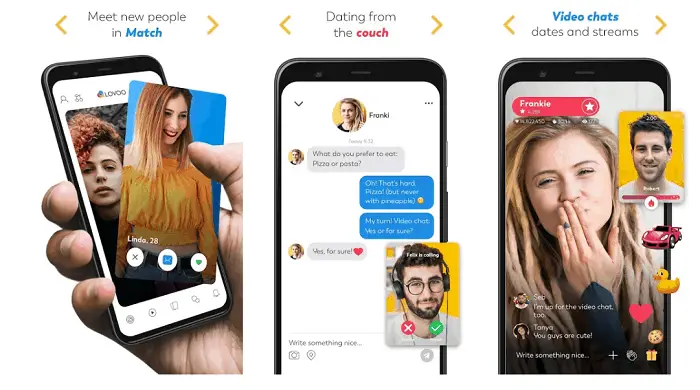 Your identity will not be anonymous here. Besides regular benefits, there is also LOVOO Premium, which makes it even simpler for you to match with a partner. It also improves your probability of receiving a reply.
Visit: LOVOO
Conclusion
These are some of the best random stranger chat apps where you can meet strangers, chat with them, and have an excellent time. You can download and install whichever of these random stranger chat apps appeals to you more.All of these are exceptional casual chatting applications with people from different walks of life; nevertheless, you can also try other stranger chat apps for a little fun run!
Hey everyone! I'm just a simple guy who absolutely loves tech. It's my dream to make sure that all the updates in the tech world reach everyone is simple words. Hope you have a good time on my blog! 🙂