Have you been looking for how to turn off notifications on smart tv? Nowadays, TVs are getting much smarter. The moment you buy a smart or android TV, you are getting a powerhouse. In the past, TVs were just connected to cable but not anymore. With smart TVs, we can download many streaming applications and even use the TV as a screen mirroring device. Things become messy when we install too many applications on our TVs. A notification from different apps pops up while we watch movies or enjoy video content with our friends. This can be annoying and ruin the party vibe.
So, is there any way by which we can mute app notifications and ads on Smart TVs? This article will give some amazing tips to help you quickly deal with app notifications and ads. 
4 Ways On How To Turn Off Notifications On Smart TV
These are the ways in which you can turn off notifications on Smart TV.
Dealing With The Ads
Most of the time, the ads we see on TV come up with a skip-timer. For instance, if you watch YouTube, you are bound to watch 6 seconds of the ads when they pop up on your screen. The best part is, after 6 seconds, you will have the skip button, and all you need to do is hit the skip ads button.
Some people often find the 6 seconds apps annoying. In such cases, they should buy a premium subscription, which will help them to enjoy the video content without having any advertisements.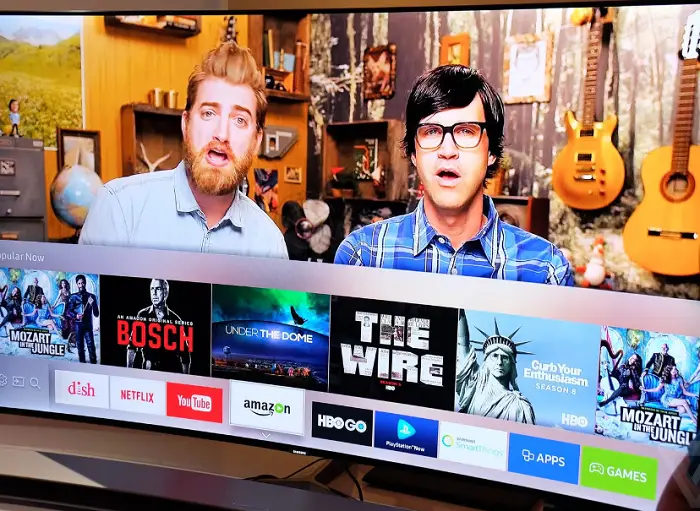 Does It Worth It? Buying premium subscriptions to avoid 6 to 12-second advertisements doesn't make any sense. However, if you are extremely careful, you may consider taking the premium package.
But for popular streaming services like HBO max and Hulu, you may consider getting the ads-free package since their advertisement length is more than 1 minute. But still, it's your call whether you will get the ads-free package or not.
See Also: How To Turn Off Focus On IPhone | Best Methods In 2023
Try Using VPN
Most smart TVs track the users' location and place ads based on that region. It is suggested to use VPN if you want to browse anonymously. With the help of the VPN, you should be able to hide your identity and reinforce your security.
For instance, many people are using VPN for Samsung TV and avoiding advertisements based on geotagging features. Some people use VPNs to unlock the contents restricted in some parts of the globe. So, the use of a VPN will not only reduce the advertisement but will also unlock more content.
Muting Notifications
You are supposed to get too many notifications when you have too many applications installed on your smart TV. In most cases, the notifications are annoying, requiring manual actions from the user end, which works as a major dealbreaker. You can easily mute notifications by pressing the home button on your TV remote and looking for the setting button. From there, you should access the configuration device options. You should see the option to mute notifications for the TV apps in that segment. If you want, you can mute notifications for certain apps and thus ensure hassle-free watch time on your smart TVs.
Muting notifications in smart TVs might vary based on the manufacturer and the model. In most cases, you should be able to mute notifications through the app configuration options. However, in some TVs, you might not get this option; in such cases, you have to turn the overall notifications for your TV.
Resetting Your Device
You might sometimes mess up with the whole system, and things will not work properly. In such a case, uninstall the app, causing problems with your TVs. If this previously mentioned method does not fix the problem, try the factory reset on your smart TV.
Just follow two simple steps:
Then select the factory reset option.

Press the factory reset button.
Once you are done with the reset, your device is as good as new, so you must connect your internet and all your accounts again. But by doing so, you can easily undo the mess you might have made while changing the internal settings.
See Also: How To Add Apps To Hisense Smart TV | Complete Guide
Modify The Android TV's Ad Settings
If your Samsung tv notification keeps popping up, and you want to know how to remove the banner from Samsung tv. You don't need to disable Samsung Connect. Then modify your Android TV's ad settings. You can change or remove your advertising ID at any time.
Apps on your device might offer a more specialized ad experience thanks to the advertising ID. Find out more about Google-tailored advertising. Using your advertising ID for tailored adverts, you can control installed apps but can't turn off smart tv ads.
On your Android TV, reset the advertisement ID. Resetting your device ad ID replaces the existing ID with a new one, which is important. While targeted adverts from apps are still possible, they might be less useful to you right now.
A choice of legal knowledge Ads Reset the advertisement ID.
A fresh advertising IDcreation is always possible. The advertisements that apps send you might be less relevant. You can't get a new one instantly when you remove the advertising ID from your device. Yet, you might still get ads based on other things, such as the data you've provided with applications, even though you won't see ads based on this advertising ID.
Press the D-Pad twice, select "Remove advertising ID, " and then click Select.
How Can Chromecast Alerts Be Disabled?
Here are the simple actions to disable Chromecast notifications.
Get your phone's Google Home app open. All of your Chromecast devices will connect to this app.

Tap on a Chromecast device to turn off smart tv features and Samsung notifications for that particular device.

The Chromecast device's remote control screen displays.

The Chromecast streaming stick's settings are accessed by pressing the gear icon.

Go to the selection Let Others Manage Your Cast Media in the menu. To turn it off, press the adjacent button.
How Is Chromecast Completely Unusable?
There is no separate on/off button on Chromecast-compatible devices. The Chromecast will still appear on the TV even when it isn't in use. Do these two easy steps to turn the Chromecast off.
Electricity Supply Elimination: Disconnect the Chromecast from the power source to turn the power off.
This will effectively turn off the Chromecast gadget. The same process repeats if you wish to turn off any more Chromecast devices lying around.
Connect the Chromecast Device to a Smart Plug: As the name implies, the smart plug plugs into a standard power outlet. Also, you can add it as a feature to your current smart home network. You may turn on or off the smart plug using a specific app or a virtual assistant. This also turns off the Chromecast device attaches to the smart socket.
Will Turning Off The TV Work To Shut Off The Chromecast Device Completely?
To turn off the Chromecast streaming stick, turn off the TV. The gadget will continue to link to your WiFi network. This Chromecast device will be listed as a screencasting option when someone joins the WiFi network to cast into the TV.
This won't occur in the other two techniques we previously learned after the Chromecast device turns off. These are the straightforward methods by which you can disable Chromecast notifications for Chromecast devices connected to your WiFi network. This knowledge was beneficial.
FAQs
How do I stop pop-ups on my smart TV?
You will be required to set your Tv on HOME mode instead of STORE mode.
Can my neighbor connect to my smart TV?
If your neighbors share your Wi-Fi, they can access your TV.
How to turn off notifications on my Sony TV?
Drag the left edge of the screen to the right, then find and tap Settings. Tap the switch beside Show notifications to turn it off.
Do smart TVs have cameras?
Some modern Smart TVs do come with a camera in microphone installed.
Conclusion 
I hope you find enough ways how to turn off smart TV notifications to avoid annoying hindrances in your shows or games. If none of those mentioned above methods don't work, it might be because not all brands have the same process to turn off notifications. 
See Also: How To Turn Off Read Receipts On Facebook Messenger
Freelancer Michael Franco writes about the serious and silly sides of science and technology for CNET and other pixel and paper pubs.