Chinese Board games were invented as a way to bring people together. They have always served as games that can help people bond, pass the time and even develop specific skills. Board games are like puzzles because they require players to think strategically and be creative to win the game.
Here are the best Chinese board games:
Mahjong
Chinese Checkers
Wei Qi
Xiangqi
Pai Gow
While various board games are available, Chinese board games seem to have made a mark on consumers. Let's check out some of the best board games from China.
This Blog: 7 Best Star Wars Board Games To Play With Your Friends [2023]
Why Play Chinese Board Games?
A consumer indeed has many options when choosing a board game. However, these China board games promise to be very innovative and creative. Though the complexity of these games might be difficult to understand, they do not require a great amount of investment and can even be made at home! Every age range will be able to fit in here.
Games such as Pai Gow and Xiangqui have helped people develop focus and improve their decision-making and strategizing skills. In this context, there is no doubt that these games will be popular and more so in the year 2023.
List Of Popular Chinese Board Games
There are many Chinese board games, so let's look at some of the most played ones.
Mahjong
Believed to have been made in 500 BCE and designed by the great philosopher Confucius, this ancient Chinese game is based on a tile format and has undergone evolutions since its inception. Initially designed to have three tile sets, its current format uses multiple tilesets called Peng He Pai.
The main goal is to assemble four sets with different styles and a pair. The game involves a minimum of four players and a total of 136 tiles divided into the form of circles, characters, and bamboo. It also includes dragon tiles and wind tiles. The game commences by distributing 13 tiles to the players and 14 tiles to the dealer nominated from among the players. Also, you can play games like Mahjong which are equally fun.
Buy: Mahjong
Chinese Checkers
Every player adores Chinese checkers because it is one of the most well-known board games. It has a board in the shape of a star and accommodates up to 6 players.
The number of players has to be even, i.e., in sets of 2, 4, or 6. Each player has marbles that need to move entirely to the other players' end. A player must move all their marbles first to ensure victory.
Contrary to popular opinion, Chinese Checkers originated in the United States of America as early as 1883. It later became Germany in the 1890s and was commonly called Stern-Halma.
Buy: Chinese Checkers
See Also: 10 Best Browser Games To Play When You're Bored

Wei Qi – A Classic Chinese Board Game
Wei Qi is among the most popular Chinese board games, is older than Mahjong, and is perhaps the oldest board game ever invented. Its origin dates back to 2300 BCE. This game has found mentioned in Japanese as well as Korean literature.
Typically, the objective of this game is to surround your opponent as quickly as possible. Like in Chess, Wei Qi also plays between two players. Here, however, the player with black stones makes the first move. The aim is to surround your opponent's stone and "capture" it.
Buy: Wei Qi – A Classic Chinese
Check this also: Top Games Which Don't Need Internet | Play Offline Games In 2023
Xiangqi
Analogous to modern Chess, this game, Xiangqi, contains more or less the same characters, a king, elephants, bishops, and pawns. It, however, has a few differences.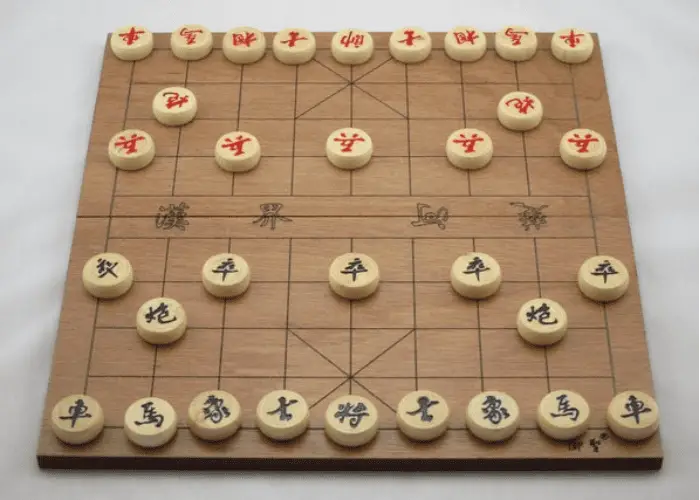 In Xiangqi, a king cannot directly check another king, and a player cannot attack a defenseless piece. A checkmate or even a stalemate can result in victory. This game bases itself completely on strategy and dynamic thinking.
Buy: Xiangqi
Pai Gow
Pai Gow, which can be called a Casino in the simplest sense. It consists of 32 tiles, each with around 2 to 12 spots. Each tile is given a rank, and every tile is part of a pair. Thus, 16 pairs are ranked in order. The highest rank for any pair is 9. This game also belongs to one of the commercially famous Chinese board games,
We can see this very commonly in the casinos of Southeast Asia and also in countries like Australia and New Zealand.
Buy: Pai Gow
Know more: Free MAC Games For Mac Users To Download Now In 2023
Feilong 
Feilong is an extremely real board game that tests players on their knowledge of the history of China. It contains an exhaustive set of question cards divided into three difficulty levels.
These questions will make a player put on their thinking hat. The knowledge imparted by this game is such that even university students play Feilong to understand Chinese history better.
Buy: Feilong
Newer Variants
These were the list of board games that have existed traditionally and that every household enjoys even today. Apart from these, there also exists a range of board games that have been created in recent times and are in constant circulation; some of these are:
Gugong Chinese Board Game
Manufactured by Tasty Minstrel Games, this board promises to be an exhaustive play. The game is set in the 1570s depicting the rule of the Ming dynasty.
Each player in the game resembles aristocratic Chinese families that must wage strategize to consolidate power and wealth. Any age group can play Gugong with a maximum of 5 players. 
Buy: Gugong
Lanterns Board Game
The Chinese obsession with colorful lanterns drifting through the night sky is not new. This tradition has been transformed into a game called Lanterns: The Harvest Festival.
This game celebrates harvest season, and players must carefully pile up tiles representing lanterns of different colors.
Buy: Lanterns
FAQ's
Where can I get these games?
Today, online platforms and e-commerce websites like Amazon offer the availability of most Chinese games for ordering..
Do I need to know Chinese to play these games?
Even though these are board games in Chinese, most of them come in their English version distributed by various manufacturers. However, a non-English and non-Chinese version may seldom exist.
How expensive are these games?
The cost of each board game depends on its authenticity and type. For instance, games such as Mahjong and Pai Gow are a bit complex and traditional. As a result, you might have to pay extra. On the other hand, a game such as Chinese Checkers is very common and simple to understand, thus bearing a reasonable cost.
What is the Age Group to play these games?
All age group people can play this game. Most of the games mentioned above are tactic and require some level of intellectual maturity. On the other hand, anyone with basic game sense can play most of these games and find them enjoyable. Children, as well as adults, love to play games like Chinese Checkers.
See Also: Can You Play PS3 Games on PS5 | Complete Guide
Conclusion
I hope this article helps people who are looking for a game that is not only fun but also challenging. These trivia Board games are a great way to spend time with friends and family. They can be a source of entertainment and mental stimulation. These board games are also educational and popular with students. It is important that you choose the right game for yourself and your family members.
Suggested for You: Chinese Music Apps to Download | 6 Best From 2023
This post contains affiliate links. Here's a link to our affiliate disclaimer.
Dedicated group of Computer Engineers making tech updates accessible to all. Our dream is to simplify and share tech news with everyone.