Kodi provides unique platforms for enjoying content in many ways. There are many Kodi builds, each offering clients special features and information. The No Limits Magic Kodi build is one of the many excellent alternatives provided by the figures. Let's examine how to set up the No Limits Magic Build.
To enable Unknown Sources in Kodi, navigate to Settings > System > Addons> Unknown Sources and click "Yes" when prompted. Afterward, return to the Kodi home screen and click the Settings Gear icon, followed by File Manager. From there, select the last option in the list, "Add source." This allows you to install third-party addons and extensions to enhance your Kodi experience.
One of the most well-liked builds for Kodi is the No Limits Magic Build, which can be installed on any Kodi device, including the FireStick, Fire Cube, Android TV, and Windows, Mac, iOS, and Linux operating systems. No limits Magic Build has been made one of the best Kodi Builders. You may use it to download all Kodi addons with a single click. It offers a welcoming UI and several add-ons. A vast addon library for movies, music, videos, shows, reality TV, documentaries, and TV series is also included. Let's look at how to install the No Limits Magic Build on a Firestick or Kodi. Also, learn how to install Durex on Firestick.
See Also: How to Use Kodi on PC Using the Easiest Method | 2023
No Limits Magic Kodi Build: What To Expect From It?
There will always be a long list of the best Kodi addons in every thorough Kodi setup. There is a selection of the top video and music add-ons here. Deja Vu, Death from Above, and 7 of 9 are among the most recent additions.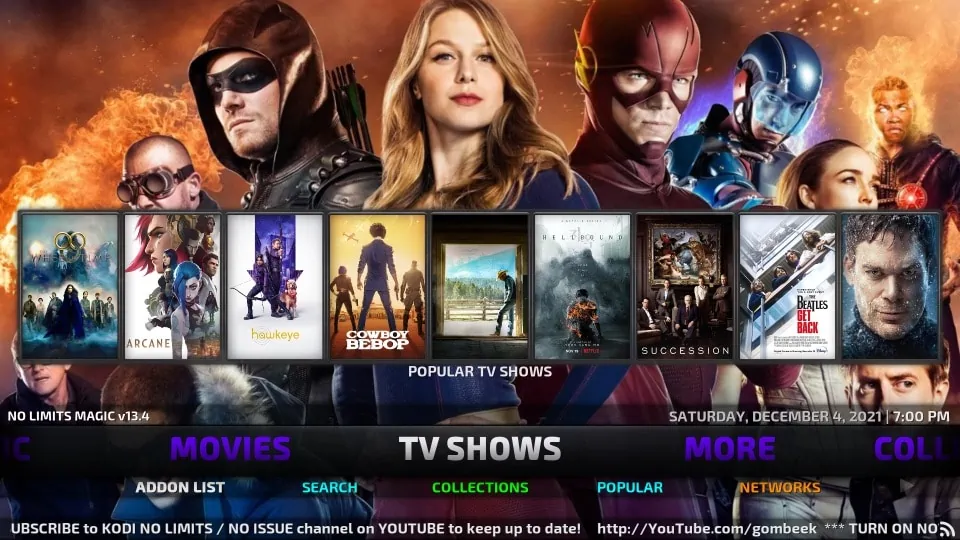 It's important to remember that the developers often update it by deleting outdated and non-working addons and replacing them with the most recent, fully functional ones.
See Also: Comparison Of No Limits Magic Vs. No Limits Firestick Lite
The No Limits Magic Build Installation Process
The methods for installing the No Limits Magic Build are shown below. Relax; it's simple to do. To obtain all the files required to start the build, follow each set of instructions below.
First, Install The No Limits Repo Wizard 
Install the No Limits repository wizard before installing the Magic Build. Repositories, often known as "repos," are zip files compiling various Kodi resources into one resource. Instead of searching for a dozen separate files, you can add them to Kodi and utilize them to install or update kodi addons rapidly. So here's how to update the limits Magic build.
Run Kodi and select the gear icon from the main menu.

Fill up the text field with the following URL: https://nolimitsbuilds.com/kodi/.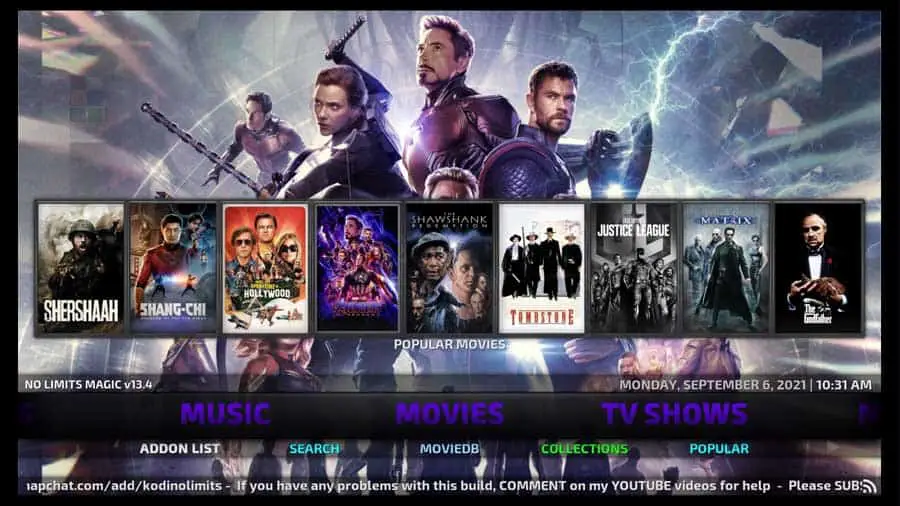 4. Type a name that is simple to remember, with no limits.
5. Then Press OK. The repo will be added to your sources in Kodi.
6. Then click on Addons from the main menu option.
     7. Choose the box symbol in the menu's upper-right corner, like Installing The Genesis Reborn Kodi Addon.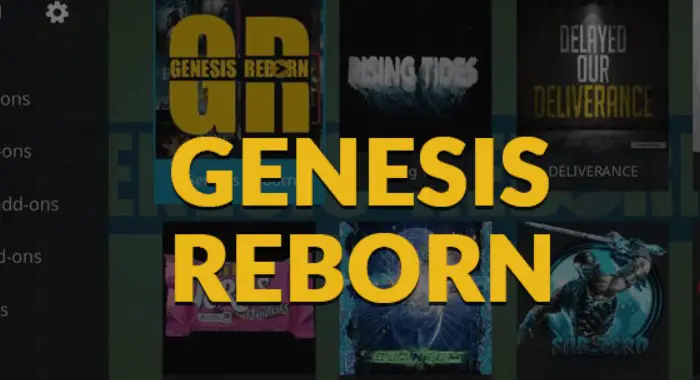 8. Choose the repository you just uploaded and Install it from Zip File.
9. Locate the file plugin.video.nolimitswizard.zip by scrolling down.
10. After installing the file, return to the home screen.
Then Install Builds On Kodi
How to install builds on Kodi? It should now be downloaded when the No Limits Wizard has been set up. Patience is necessary because builds are enormous and take a long time to transfer. Even with a strong internet connection, downloading Magic can take up to 10–20 minutes, slightly under 300 MB. Even the so-called "light" version requires a 200 MB download and significant installation time.
Locate and start the No Limits Wizard on the right.

Decide which No Limits Magic edition you wish to install.

Now Install no Limit on Kodi. As Kodi downloads the files, you must leave them as it is on download.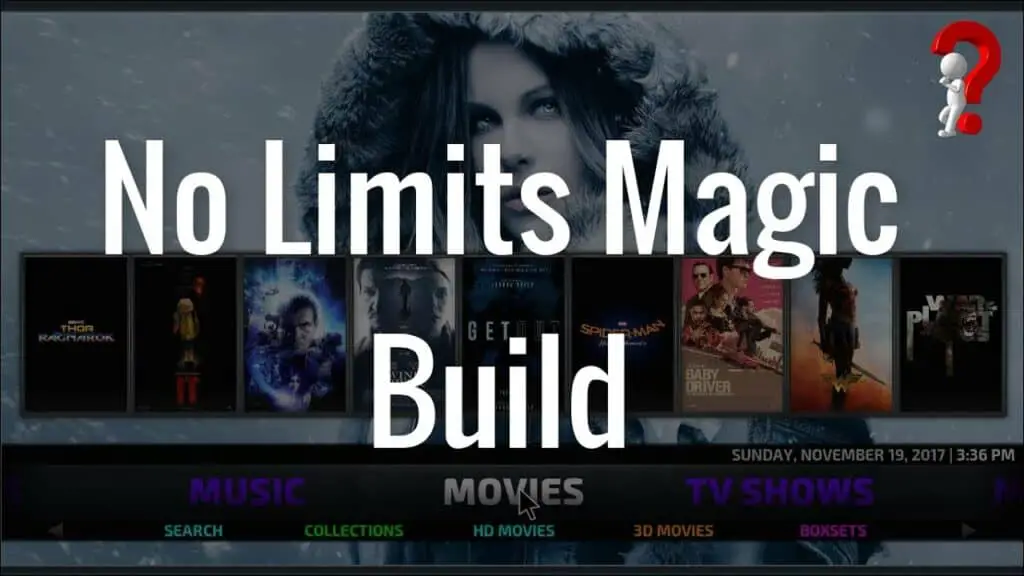 5. Kodi can restart itself when finishing the operation. If it doesn't, manually close and reopen the software to activate the build; this is how the Kodi Nobody is installed.
Also Read: How To Install Kodi Fusion? Easy Step-By-Step Guide
Experience A Whole Universe Of Fun With The Kodi No Limits Magic Build!
After installing the No Limits Magic build on Kodi and Firestick, the next step is to indulge in your preferred kind of entertainment. With this Kodi setup, you may access a variety of content types for nothing at all! They consist of the following:
Movies
You may browse a wide selection of films from various genres with the Kodi No Limits Magic Build on FireStick / PC. Also, there are several methods for finding movies. Everyone may find something to like, whether they favor horror or action movies.
While looking for your favorite movie, you may use keywords, the names of the actors and actresses, or movie titles. Anything that you'd like to see is available.
TV Shows
The TV Series department offers a vast collection of top-rated entertainment, much like the movies category. The user interface is very tidy and well-structured.
In contrast to Netflix, you get a lot more details about the TV show, including all the seasons and episodes of the show.
Sports
Being a die-hard sports lover, sports channels are the first thing one looks for when choosing a cable TV package.
You may enjoy viewing sports highlights and receiving live scores using the Kodi no-limit build on your Kodi device.
Music
You may enjoy the most popular US and UK talks in the music area or find the music of your choice using the filter option. You will find some unique finds here if you want jazz and old-time music!
But it doesn't imply you won't like the newest R&B and hip-hop songs.
Live TV
Several of the most significant US and UK channels includes the Kodi No Limits Magic Setup. You'll be able to browse and watch in high definition.
Its user interface is clear and well-organized, making it simple for you to navigate the channels. Scrolling across live TV has never been simpler!
See Also: How To Fix If Durex Build Not Working?
FAQs
Kodi No Limits build: what is it?
The Kodi No Limits Magic build is a Kodi media player addon with a large selection of the finest TV shows, movies, and music. Installation and use are both free. Just be aware that Kodi is not particularly secure by default and displays your IP address to the world.
How to Repair a Not Working No Limits Magic Build?
Why don't the no-limits build work?
The best course of action if the No Limits Magic Build prevents you from streaming is to shut Kodi and restart your system forcibly. Also, it won't work if the Kodi version is not updated so update it first and then use it. Use the Suggested setting during setup when reinstalling Kodi.
Is Kodi 19 compatible with the No Limits Magic Build?
No, Kodi version 19 is incompatible with the No Limits Magic build. Only Kodi 18 Leia and earlier versions, which are no longer accessible from the official Kodi website, support it. If you wish to use No Limits Magic with an older version of Kodi, you should be cautious about where you acquire it because it could come from a dubious source. To secure your personal information, connect to a VPN before installing an older Kodi version.
Conclusion
No Limits Magic Build is the finest option for watching all TV shows. The specifics of No Limits Build Magic may be learned from the material above. It is a straightforward way to get started. As you install it, you are ready to go. You don't need to search for add-ons or look for working connections to new streams. Click here to find out how to install Kodi Xanax Build.
Dedicated group of Computer Engineers making tech updates accessible to all. Our dream is to simplify and share tech news with everyone.