Musical Instrument Digital Interface (MIDI) was a creation that united musical instruments and our PCs or laptop. It made every musical instrument compatible. Most technical standards are quite compatible with MP3 only as you can add album art to MP3 easily.. MIDI can be specified using cues, velocity, tempo, pitch, notation, clock signal, etc. Therefore, follow this article to know about powerful MP3 to MIDI converter that are available in the market to convert your audio files.
Top 10 MP3 to MIDI Converter Tools Worth Considering Today!
In this article, you will know about Best MP3 to MIDI converter tools, their pros as well cons and how they can help you to enhance the quality of music.
Bear Files Audio Convertor
Bear File Converter is an online Mp3 to Midi converter service that supports audio, image, office document, video, and ebook file conversions. Easy to use and free makes it top the list. You can convert any media file to WAV or MP3 file as well as you can also convert audios and MP3 to text. Bear file converter also supports images conversion and document conversion which makes it all in one system. It can be accessed online and provides multiple services at one step.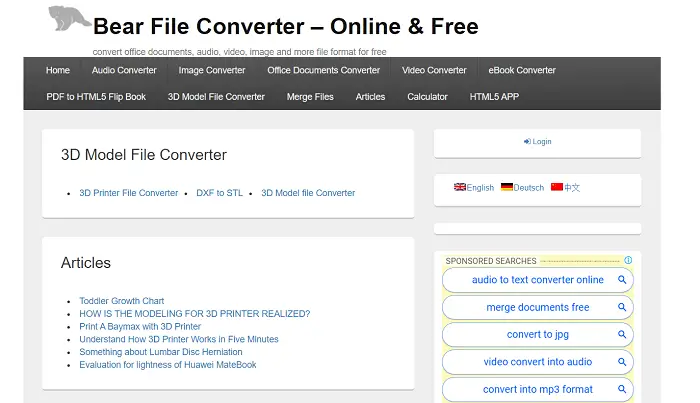 For a speech/audio recognition engine, you can choose either CMU Sphinx or Baidu. Baidu tends to make better conversations.
Visit: Bear Files
Audacity
Audacity is a free, multi-track editor and recorder for Windows, macOS, and other operating systems as well. Multi-tasking with ease makes it one of the most popular MP3 to  MIDI converter tool.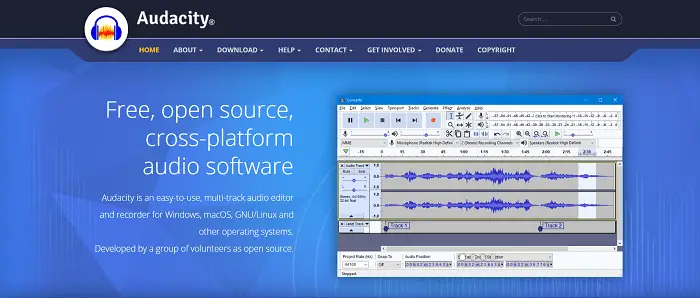 Audacity helps you record live audio, convert rapes and records into digital recordings or CDs. It can also edit different types of sound files such as WAV, AIFF, FLAC, MP2, MP3. Audacity also provides numerous effects as changing the speed or pitch of a recording as well as it enables you to write on plug-in effects with Nyquist.
Various minute details are taken care of by Audacity.
Visit: Audacity 
AmazingMIDI
AmazingMIDI is another unique and easy to use Mp3 to Midi converter which automatically transcribes music and converts WAV files into MIDI files. It is a powerful tool that helps you go about business smoothly.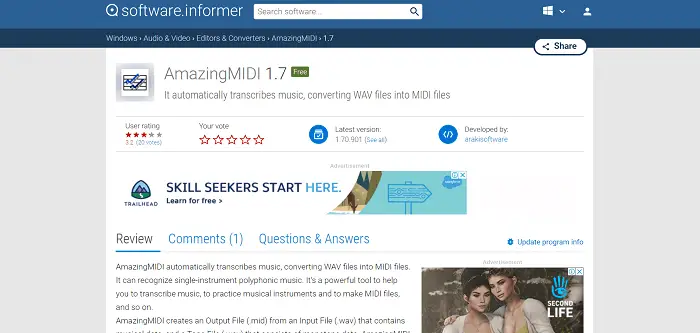 Amazing MIDI makes Output File from an Input File. It can contain musical data and a Tone file which consists of monotone data. As a result, it writes down all detected notes as single instrument music even if Files contain several instruments.
See Also: How to Increase Maximum Volume in Windows 7/8/8.1/10
AmazingMIDI is a good MP3 to MIDI converter that still is in infancy, yet it is a remarkably powerful chord analyzer.
Visit: AmazingMIDI
 

AVS audio converter
AVS audio converter is a Mp3 to Midi converter software application specifically designed for converting audio formats as per your wish. The following audio formats are available for conversion: MP3, MP2, MP+, M4A, AAC, FLAC, ADPCM, WAV, WMA, Ogg Vorbis, etc. The latest ribbon-based interface makves it user friendly and assures easy handling.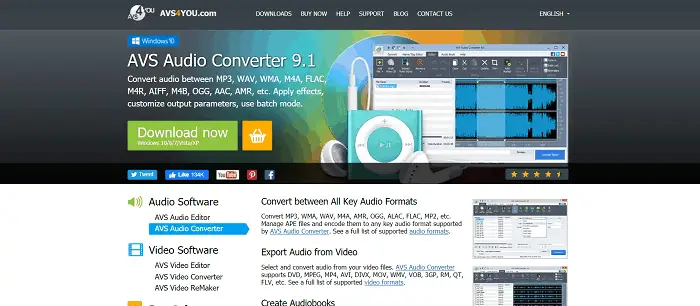 AVS audio converter is the most sought MP3 to MIDI converter after Bear Files.
Visit: AVS audio converter
Intelliscore Audio Convertor
Intelliscore is a user-friendly Mp3 to MIDI converter. It has been exceptionally made to change MP# to MIDI and WAV to MIDI. You get to try the demo version of Intelliscore and it never terminates. But there are various shortcomings to demo like no record live execution or converting into MIDI. 
Intelliscore can separate guitar sounds from the bass and kick start the change by playing the MP3 document. As of now, you can do whatever you want with Intelliscore. It has improved the visual pitch maker which allows you to tune instruments. 
Visit: Intelliscore
Widisoft Home
Widisoft Home is the latest approach to convert your MP3 files into MIDI. Well, this is one of the finest converters available in the market today. Being one of the best, it comes with a price. You need to pay to enjoy all of its features. But wait, you can try the free trial version for 30 days if you want, so no need to get disheartened. The output MIDI file is of top quality. To run this software efficiently, you need to have a high specification system with an excellent graphic card, and it works flawlessly on Windows. It works decently on Mac OS.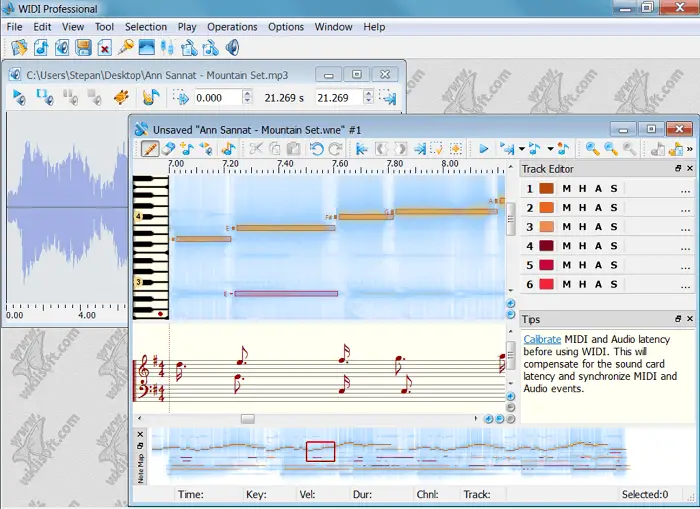 This perfect mp3 to MIDI converter supports almost all audio formats, including WAV, MP3v, and AVI. This is highly recommended software by the professionals, so paying for it is worth your money. If you don't know music, you won't be able to use this software's tools. So be sure to be a master in music theory to use this software.
Visit: Widisoft Home 
Converter Lite
Are you looking for an Mp3 to MIDI convertor, which is straightforward and doesn't require much music knowledge? Then Converter Lite is the software you are looking for. It is an efficient converter that can make your mp3 files into MIDI files without paying a single penny. The software has a very user-friendly interface that can convert multiple files at the same time. You can easily convert any number of files without much effort and that too in the highest quality. All the primary tools for music and related stuff are already present inside the software, so you don't need to download extra plugins or tools.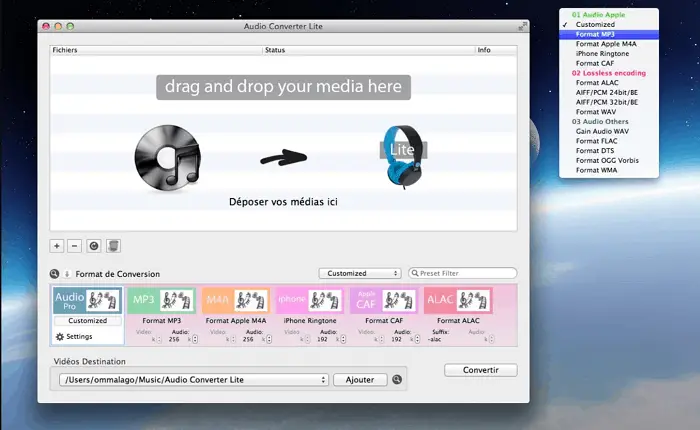 Many music hobbyists and professionals use this software because of its efficiency and quick conversion capability. This free software has more than 3 million downloads. If you don't believe us ask the users of this software about its advantages. Converter Lite is available for all versions of Windows. 
Visit: Converter Lite
Notation Player
Notation Player is another veteran when it comes to converting mp3 files into MIDI. You won't find any other match for this software. It is true to its name as it not only converts your mp3 into MIDI but also creates an XML file of your music. You can view the notes being played on your monitor screen. This can be beneficial for creating new music or catchy sound from scratch.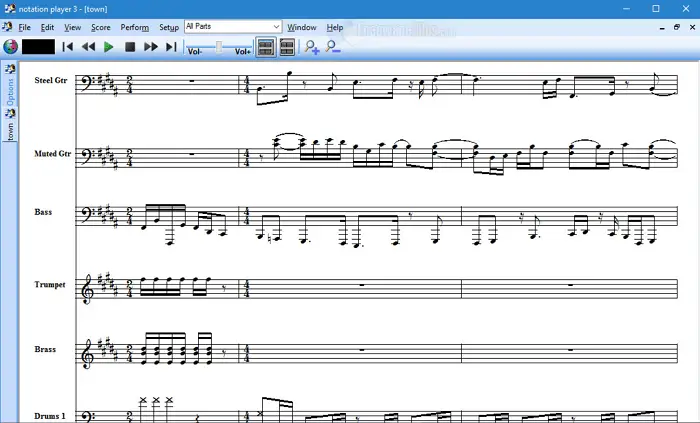 You can even alter the sound or tempo while recording your music. If you are a complete beginner, then this is the perfect software for you. This software gives you a high-quality result in no time and free of cost. Try it now!
Visit: Notation Player
 

Zamzar Audio Convertor
Zamzar is an online Mp3 to midi converter software that gives you smooth sailing throughout work. It allows you to convert the files as well as MP3, Videos, CAD, etc. In addition, Zamzar can convert the same file as many as times you want. With a very efficient customer care service Zamzar make it easy for one to solve problems. You can also download your file as many times you wish to but free users have a 24-hour window before their file is deleted from the Zamzar database.
Overall easy to use as well as Zamzar gives various options to convert the files.
Visit: Zamzar
Audio Converter Lite
Audio Converter Lite transforms audio and video files rapidly into MP3, M4A, M4, WAV, AIFF formats. It also improves sound and organizes musical data automatically. Audio Converter Lite accepts more than 200 different formats including WMA, WAV, MP4, MP3, AAC, and AIFF.
Audio Converter Lite supports almost every demanded output and codecs for musical and voice records. Serving different purposes such as Mobile( iPhone, android), Hi-Fi listening. Djing etc. The Mp3 to Midi converter can recognize every single source file, calculate the optimal value for Bit Rate, Sample Rate, etc. Its automatic audio settings preserve sound quality with minimum file size. You can manually set in preferences and format and make your own music.
Visit: Audio Converter Lite
Conclusion
To conclude, Mp3 to Midi converter tools have undoubtedly resolved the issues people face while creating their own music. So, people now, can easily play MIDI files on Windows, Mac, Linux and other systems. These formats also allow people to alter pitch, tempo, velocity as well as other formats as per their requirements. Check out each of these tools and do let us know about your experience in the comment section below!
Hey everyone! We are a group of Computer Engineers who have dedicated their lives to tech. It's our dream to make sure that all the updates in the tech world reach everyone is simple words. Hope you have a good time on the blog! 🙂