Mobile operators have been rapidly incorporating highly advanced technologies in smartphones. The need for a traditional TV has become obsolete now. With smartphones, smart TVs are stealing the show. To enjoy our smartphone content on a smart TV, we need to connect our phone to TV.
If you don't know how to connect your smartphone to TV, this tutorial is for you. This guide is for both Android and iPhone users. So please follow our hacks carefully.
Please note for connecting a smartphone to a TV, you just need a smartphone and smart TV.
See also: How to Download Protected JW Player Videos for Free
Hacks To Connect A Phone To TV
In this tutorial, we will provide ways how you can connect a phone to TV with
Accessories

Android

iPhones
Please carefully follow the processes.
Accessories
By using accessories, we can connect both Android and iPhones to TV. Let's see how we can do it.
HDMI
HDMI is considered the easiest and safest way.
It would help if you connected the HDMI port of your smartTV to an adaptor. The adaptor connects your smartphone through the USB.
To connect your iPhone using an HDMI cable, you need a Lightning Digital AV Adaptor. 
Please use a good quality HDMI for a better connection.
Visit: HDMI cables
See also: Fix Error Code 83 On Disney Plus At Help Center
USB 
This is another way of connecting using USB. Intelligent TVs are nowadays come with a USB port. So you need to take the charging wire of your phone and connect it.
But remember, this process can lead you to a lot of hassles. So use it according to your discretion.
This hack is the most affordable way to connect a phone to a TV. You can connect your Samsung phone to TV with USB.
Android
Now we will look at how we can connect our TV with the help of Android apps.
Chromecast
Chromecast is the safest way to connect the phone to TV. But before using Chromecast, ensure your smart TV supports it.
You need to go to the App. Press the cast symbol. Now you will be able to enjoy your smartphone content on TV.
Please note both the devices should be connected to the same WiFi for this hack to work. Services like Google Photos, Netflix, HBO support Chromecast.
See also: How To View Amazon Prime Video On Chrome Cast
Mirroring
This process involves a bit of technicality. So please follow our instructions carefully.
First, you need to pair phone to laptop. Then connect the computer to the TV's HDMI port using an HDMI cable. Now for streaming the display of your smartphones, press Windows+P, choose Duplicate.
You can install some apps for free from Google Play Store and their official website for mirroring. Please avoid using any other app as it may involve the risk of your personal information getting stolen.
See also: How To Add Disney Plus To Vizio Smart TV? [Complete Guide]
Screen Mirroring-Cast to TV
The Screen Mirroring Cast to TV is one of the most popular apps for mirroring. There are presently over 10 Million Downloads of the app on Google Play Store. Moreover, it has an excellent rating of 4.0 on the Google Play Store.
The simple user interface helps to connect the phone to the TV easily. You can play your music, films, or web series from your phone. Moreover, the app is compatible with all Android devices.
The major USP of the app is its ability to change resolution. So, we would highly recommend our readers to try this one.
Download: Screen Mirroring-Cast to TV
Screen Mirroring- Smart View & Wireless Display
If you are having trouble to connect the phone to TV, definitely try this app.
The Screen Mirroring: Smart View & Wireless Display is a lightweight app. It provides a wireless display. Moreover, it works with most of the Smart TV that has mirrorlink. However, it is most suitable for connecting LG or Samsung TV.
Try this amazing user-friendly product from SoulApps Studio. Over 1 Million people have used this app. So, it is entirely trustworthy.
Download: Screen Mirroring- Smart View & Wireless Display
Screen Mirroring with All TV
As the name suggests, the app is compatible with all Smart TVs available in the market.
It is only 4.8 MB but has an incredible user rating of 4.1 on the Google Play Store. In addition, there are over 1 Million Downloads.
The connection is hassle-free. Also, the quality of the mirroring is quite good. Most importantly, the app guarantees users' privacy and data. So, it is definitely worth giving a try.
Download Screen Mirroring with All TV
See also: Sky Go Mirroring Hack | Watch Sky Go On Your TV
iPhone 
For connecting your iPhone, you need to do the following things
Apple AirPlay
The Apple AirPlay will work only if you have Apple TV or Apple AirPlay supported TV.
First, ensure your TV and smartphone are connected to the same WiFi. Next, click Screen Mirroring Button and go to the Control Center. From there, choose the device which you want to stream.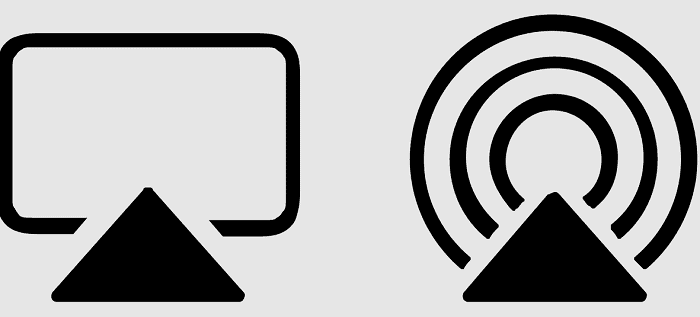 Without a doubt, this is the easiest way of connecting an iPhone to a smart TV.
See also: How To Add Apps To Hisense Smart TV | Complete Guide
Android TV Stick
Before starting, let us inform you that this hack is not the best to connect phone to TV. It requires some technical knowledge to execute this process. Moreover, Android TV Sticks are often very slow and not reliable. SO in case you don't have any other solutions, you may go for it.
Connect your Android TV Stick to the TV. With the Kodi Media Server App installation, you can then see the TV. Remember to click the Air Platy Button after installation of the App. to 
As this hack involves a lot of complexities, better not try to use them much.
See also: How To Set Up And Use Chromecast For Mac [Complete Guide]
FAQ
Let's look at some Frequently Asked Questions.
Why my phone is not connecting to TV?
Firstly, make sure if you have installed the latest software update on the TV. Then check whether you have connected it correctly to TV and mobile device.
How to watch movies from phone on TV using a USB?
To watch movies from the phone on TV using a USB, connect the cable to the phone. And then to the TV. Finally, you need to change the input on the TV to USB.
How can we connect phones to Smart TV using WiFi?
You can use Chrome cast for connecting your smartphones using WiFi. However, remember the TV and phone should be connected to the same WiFi.
See also: How to Connect Roku to WiFi Without Remote
Conclusion
In conclusion, we believe our hacks will help you connect your phone to TV. Our content is expert recommended. Hence you can trust us. We would like to hear from you in the comments to clear all your doubts. To know more about tech and awesome tech solutions, please follow Techyhost. 
Lead Photographer, Lead Advice Editor for @CNET in Europe. Love: the outdoors, music, food, snowboarding, animals, beer, coffee, lists. Personal views.